Bernie Griffen & the Grifters, The Broadsides and Tami Neilson. Photo: The Gunslinger's Ball.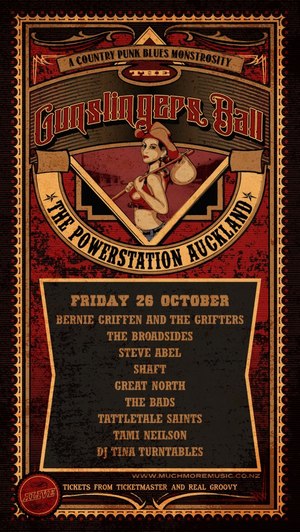 The Gunslinger's Ball has grown from the occasional evening of country-fried revelry to what the NZ Herald has described as a "wild musical feast of alt-country, cowboy, punk, folk and country blues bands."
This definitely isn't your nana's hoedown.
Straddling the divide between heartfelt alt-country, raucous blues, rockabilly brashness and punk bristle, the Gunslinger's Ball melts down musical barriers to the point where there are none.
This is a show by and for outlaws, outcasts and outliers.
Radio New Zealand was on hand to record the Powerstation show in October 2012 featuring Great North, Tami Neilson, The Bads, The Tattletale Saints, The Broadsides and Bernie Griffin and The Grifters.
The songs are: Great North: 'When You Go', 'Lead Me To The Light'; Tami Neilson: 'Hey Mama', 'One Thing'; Steve Abel (w/Dianne Swann): 'Cinders Of The Sun'; Tattletale Saints: 'Complicated Man', 'Molly'; Bernie Griffen & The Grifters: 'Sometimes I Feel So Sad', 'Hand In Mine'; The Bads: 'Good Lies'; The Broadsides (w/Tami Neilson): No Good For My Soul, 'What's Your Name'.