From the sounds of the Islands, to fledgling hip hop and reggae labels, to bootleg CDs of all stripes sold straight out of car boots, South Auckland's Otara Markets is a hive of musical activity. Sam Wicks rolls through the neighbourhood on a guided tour of a grassroots operation that has germinated businesses like Urban Pacifika and Dawnraid Entertainment, and launched artists like Jamoa Jam, Tha Feelstyle and Young Sid.

First day, outside at Otara Markets circa 1998.

Brotha D at the tables inside hall, Otara Market.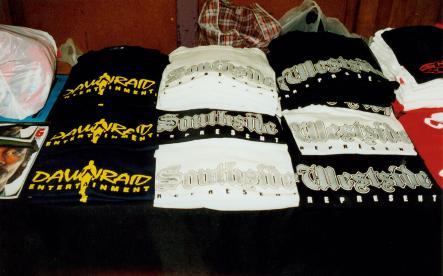 T-shirts on display.

OMAC Studios in Otara, out front clowning around AKA BROWN (Chong-Nee) & LOST TRIBE (Brotha D).

Payday!, Brotha D, Andy and son Tyrone counting the days take in our stock room...