Kirsten Johnstone discusses a stripped-back and personal set from Sufjan Stevens for The Sampler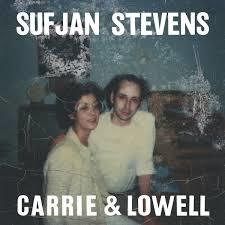 Carrie And Lowell by Sufjan Stevens (Asthmatic Kitty)
North American songwriter Sufjan Stevens has released his most heartbreaking set of songs yet.
Carrie And Lowell deals with the death of his mother in 2012, though she left Sufjan's life a lot earlier. Diagnosed as schizophrenic, and struggling with substance abuse and depression, she  left when Sufjan was one.
He leaves the orchestral excesses and exuberant electronic outbursts of his previous albums behind behind, with just acoustic plucking, hushed choruses and soft atmospherics giving the lyrics the space they need to weave Sufjan Stevens' personal mythology.
Songs featured: Death With Dignity, Should Have Known Better, Fourth Of July, The Only Thing, My Blue Bucket Of Gold.