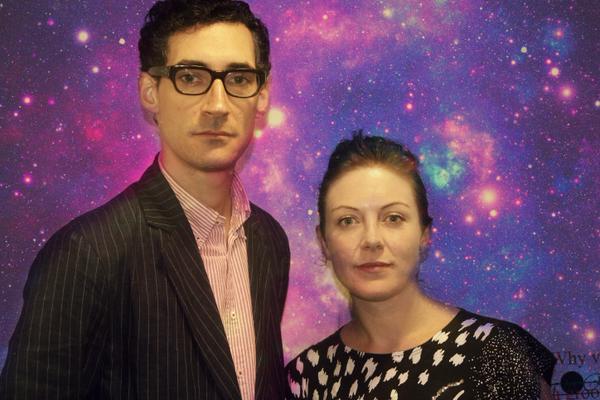 Jordan McLean and Emma Smith/ Photo by Dru Falkner, messed with by Emma
Nine years ago, Antibalas joined dancer, choreographer and director Bill T Jones to create Fela! The Musical, a Tony award winning musical about the life of afrobeat legend Fela Kuti, whose uplifting music told stories of suffering and corruption in Nigeria in the mid to late 20th century. After successful runs in the States and UK, the Broadway show was paired down for the Adelaide Arts Festival, and also made it to Auckland.
Antibalas trumpeter and assistant musical director of Fela! The Musical, Jordan McLean, joins Emma Smith in studio.
Music Details

Artist: Broadway Cast Recording
Song: Everything Scatter
Composer: Fela Anikulapo-Kuti / Aaron Johnson / Jim Lewis / Jordan McLean
Album: Fela! The Musical OST
Label: Knitting Factory

Artist: Fela Kuti and Africa 70
Song: Zombie
Composer: Kuti 
Album: Zombie
Label: Polydor

Artist: Fela Ransome Kuti & His Koola Lobitos 
Song: Highlife Time
Composer: Kuti
Album: Fela Ransome Kuti & His Koola Lobitos 
Label: Parlophone

Artist: Fela Kuti and Africa 70
Song: Kalakuta Show
Composer: Kuti
Album: Kalakuta Show
Label: Kalakuta Records

Artist: Fela Kuti and Egypt 80
Song: Power Show
Composer: Kuti
Album: Original Sufferhead
Label: Arista

Artist: Fela Kuti
Song: Unknown Soldier
Composer: Kuti
Album: Unknown Soldier
Label: Skylark

Artist: Broadway Cast Recording
Song: Kere Kay
Composer:Fela Anikulapo-Kuti / Aaron Johnson / Jim Lewis / Jordan McLean
Album: Fela! The Musical OST
Label: Knitting Factory

Artist: Fela Kuti and The Africa 70
Song: Shakara
Composer: Kuti
Album: Shakara
Label: EMI