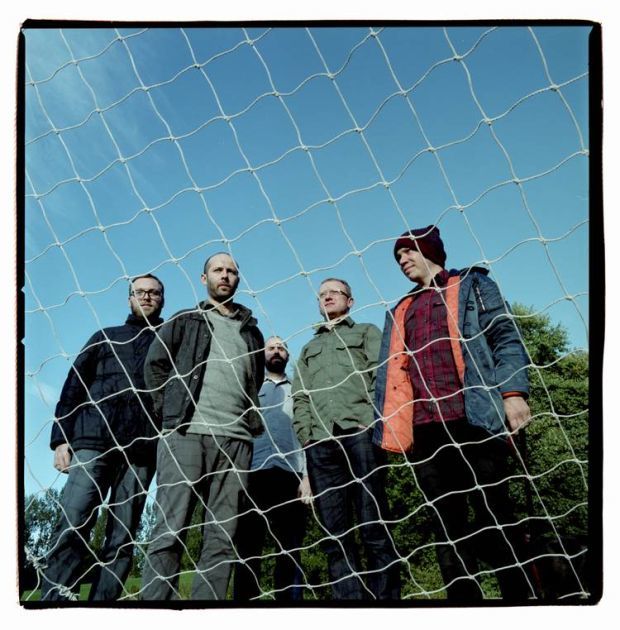 Credit: Mogwai / Photo by Steve Gullick.
Glaswegian six piece Mogwai play shows in Wellington and Auckland this weekend.
They set the template for the loud-quiet-loud instrumental band, though Mogwai shun the term 'post-rock', and what vocals they do use are most often muted. Keyboard player Barry Burns says of Mogwai's approach to lyrics:
"It's just random sentences that sound nice through a vocoder. They're different every night, and no one can tell.

'Cept that one time in Australia when the vocals were sent through the mix dry and I was snapped out having a go at the front row".
The band have evolved their sound and instrumentation over the years, as their latest album Rave Tapes attests. It's filled with pulsing, oscillating synths, under Barry Burns' hands. He seems to have soaked up some of the kraut-rock sounds of his new home of Berlin.
Mogwai were last in New Zealand 16 years ago, in 1999. Barry Burns and guitarist/vocalist Stuart Braithwaite tell Kirsten Johnstone about their recollection of that show.
Music Details
Artist: Mogwai
Song: Mogwai Fear Satan
Composer: Mogwai
Album: Special Moves, Live in Brooklyn NY 2009
Label: Spunk
Artist: Mogwai
Song: Waltz For Aiden
Composer: Mogwai
Album: Come On Die Young
Label: Chemikal Underground
Artist: Mogwai
Song: The Lord Is Out Of Control
Composer: Mogwai
Album: Rave Tapes
Label: Rock Action
Artist: Mogwai
Song: CODY
Composer: Mogwai
Album: Special Moves, Live in Brooklyn NY 2009
Label: Spunk
Artist: Mogwai
Song: Remurdered
Composer: Mogwai
Album: Rave Tapes
Label: Rock Action
Artist: Mogwai
Song: Hungry Face
Composer: Mogwai
Album: Les Revenants OST
Label: Rock Action
Artist: Mogwai
Song: Hexon Bogon
Composer: Mogwai
Album: Rave Tapes
Label: Rock Action