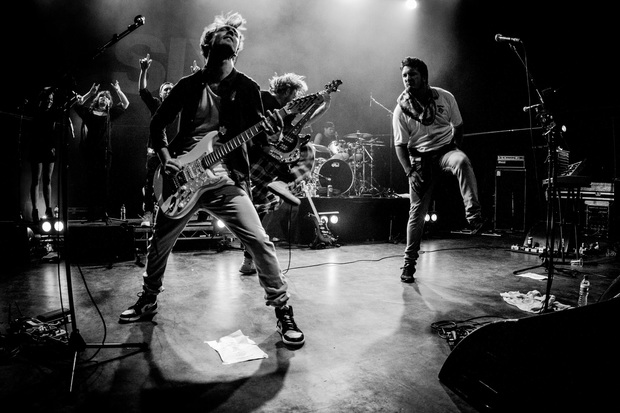 Six60 live in London.
Formed at number 660 Castle St in the heart of Dunedin's scarfy district, Six60 fast became festival headliners, with a musical formula that took cues from local heroes like Shapeshifter, The Black Seeds and Kora. The band's lead singer Matiu Walters describes the band as atypical musicians:
"I wanted to be an athlete – I'm a massive, massive boxing fan, and I've got tattoos to show it. I part own a gym with my dad in Kingsland and that pretty much takes up most of my time. I went down to Dunedin for the purpose of playing rugby. It feels like I have more in common with rugby players than I do with musicians, you know what I mean."
With their festival-friendly amalgamation of soul, rock, dubstep and drum & bass, Six60 quickly rose from being a covers band on the Otago Uni circuit to chart troublers, with their debut album going quadruple platinum.
Four years after that release, Six60 return with their self-titled sophomore, this time written and produced with Printz Board, a close collaborator with the Black Eyed Peas and the man responsible for Kim Dotcom's forays into EDM.
"Printz comes in and he had his little LA Black Eyed Peas swag thing going on, so it was a bit awkward," says Walters. "We said, "Let's try something", started working, and within the hour, hour and a half, we'd written 'Special', which is now [a] platinum number one hit in New Zealand."
Despite their success, the band say they still feel like outsiders in the NZ music community. Six60 songwriters Matiu Walters and Marlon Gerbes talk to Sam Wicks about their new songwriting partner and the challenges of following up their chart-topping debut.
Related Audio
Six60's award winning manager Teresa Patterson
Kim Dotcom on his album of EDM
Music Details
Artist: Six60
Song: FTW (Intro), Special, Find My Way, Die For, White Lines, Purple, Don't Go Changing
Composer: Six60, P.Board
Album: Six60
Label: Universal