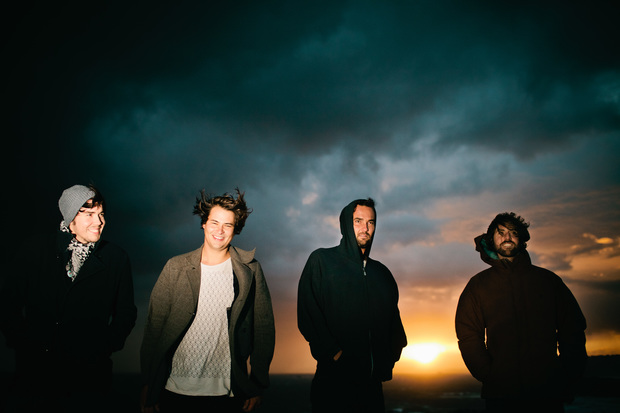 Julian Temple Band [L-R Paul McMillan, Alex Vaastra, Julian Temple, Paul McLennan-Kissel / Photo by Chris Garden
Dunedin surf blues and folk-noir group the Julian Temple Band are touring this month, after Julian returned from a year and a half living and performing in California.
The band added violinist Alex Vaastra to the line up of Paul or 'Pipsy' McMillan on bass and Paul Mclennan Kissel on drums for the release of  their 2013 album, Upsidedownbackwards.
Anthonie Tonnon caught the second show of the tour at The Hilltop Tavern in Little River, Banks Peninsula, and talked to Julian about his decision to return home.
Music Details
Artist: Julian Temple Band
Song: Dark Bar / Upsidedownbackwards /
Composer: Julian Temple
Album: Upsidedownbackwards
Label: Self released
Artist: Julian Temple Band
Song: Run Like Water
Composer: Julian Temple
Album: Quiet Earth
Label: Self released
Artist: Julian Temple Band
Song: Sink or Swim / Snake's Ladder/ Ceiling in the sky
Composer: Julian Temple
Album: (Unreleased)
Label: RNZ Recording