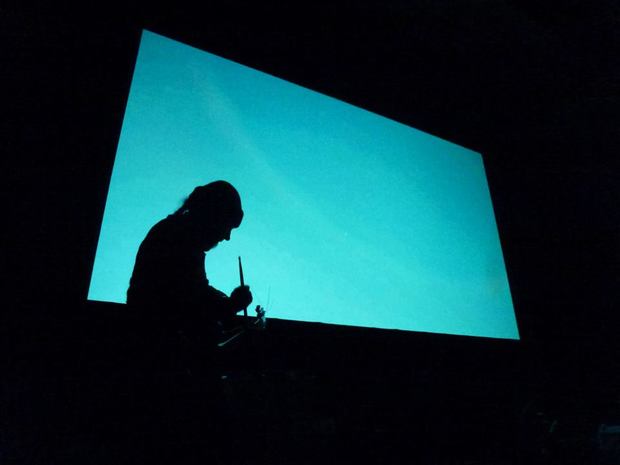 Antony Milton plays the Audio Foundation's Nowhere Festival 2014 / Photo by Noel Meek
Over a headspinning five days, more than 50 acts came together to perform at the Audio Foundation's Nowhere Festival held in Auckland last week.
A celebration of sonic adventurers from around the country, the festival featured a wildly diverse range of performers.
There were electronic sound-making devices housed in old VHS cases, instruments made from old spinning wheels, and everything from scrunched up, blissed out ambient drones and immersive laptop performances to grubby noise rock and improvisational ensembles, mostly held in the bunker-like confines of the Audio Foundation's headquarters in Auckland.
Kiran Dass was there, and spoke to festival organiser and director of the Audio Foundation Jeff Henderson, Beth Dawson who performed in scuzzy space rock group the Maltese Falcons, in the Musical Electronics Library, and solo with a hive of low lying electronics with beats and vocals as Ducklingmonster; and two ex-pat New Zealand punters who jumped on a plane from Melbourne especially to catch the festival.
Related Audio
I.Ryoko's diary of his Audio Foundation residence
Audio Foundation's instrument maker mini-fest S3D 2014
Dan Beban explores recent music by Jeff Henderson
Music Details
Artist: Maltese Falcons
Song: 'Space Thug'
Composers: Beth Dawson/Pat Kraus/Stefan Neville/Sean O' Reilly
Artist: Rosy Parlane
Song: 'Morning'
Composer: Paul Douglas
Artist: Sunken
Composers: Stefan Neville/Antony Milton
Artist: The Builders
Song: 'Alien'
Composer: Bill Direen
Artist: Eye
Composers: Peter Porteous/Peter Stapleton/Jon Chapman
Artist: Ducklingmonster
Song: 'Pink Dessert'
Composer: Beth Dawson
All RNZ Recordings