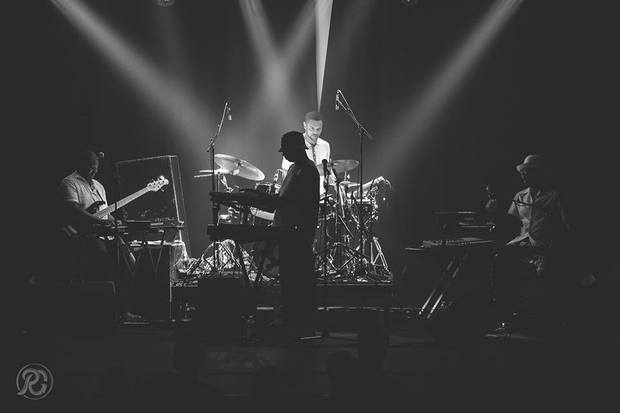 Myele Manzanza holding it down for the Theo Parrish Live Band / Photo by Rémy Golinell
When renowned Detroit DJ and producer Theo Parrish decided to do a rare live band tour, he chose his collective of musicians and dancers from across the globe.
This gave Wellington's Myele Manzanza the chance of a lifetime.
Playing drums in the band dubbed Teddy's Get Down, Myele documents his travels from the UK to Russia.
Related Audio
An interview with Myele Manzanza from Music 101, February 2012
Myele talking about the Red Bull Music Academy, in 2010
Music Details
Artist: Theo Parrish
Songs: The Rink / Love Triumphant / Galactic Ancestors / Synthetic Flemm
Composer: Theo Parrish
Album: Sound Sculptures, Vol. 1
Label: Sound Signature
Artist: Theo Parrish
Songs: Love is War For Miles
Composer: Theo Parrish
Album: First Floor
Label: Peacefrog Holdings
Artist: Theo Parrish
Songs: Lake Shore Drive
Composer: Theo Parrish
Album: Small Black Church
Label: KDJ
Artist: Theo Parrish
Songs: Moonlight
Composer: Theo Parrish
Album: Moonlight Music and You
Label: Sound Signature
Artist: Myele Manzanza
Song: Unknown
Composer: Myele Manzana
Album: One
Label: BBE records