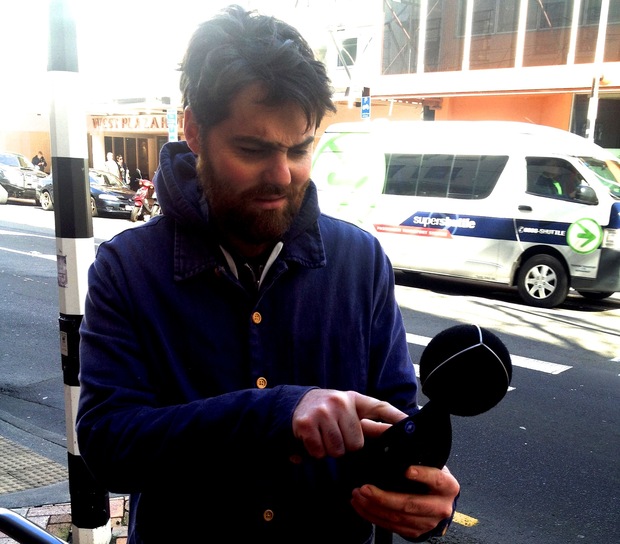 Samuel Scott policing the noise police / Photo by Clayton Anderson
The demographic of New Zealand cities has shifted dramatically in the last 10 years with apartments popping up on seemingly every inner city corner in Auckland and Wellington.
The Phoenix Foundation's Samuel Scott explores how this change has affected the live music scene. How does noise affect your sleep and wellbeing? Who judges how loud something has to be before it's too loud? And who polices the noise police?
Scott takes a late night cruise with his local noise officer, meets heavy metal gods at the Wellington City Council and talks to venue owners and promoters to find out what all this noise is really about.
Playlist
Artist: Beastwars
Song: Daggers
Composer: C.Anderson, N.Hickey, M.Hyde, J.Woods
Album: Beastwars
Label: Destroy

Artist: Bill Sevesi
Song: Steel Guitar Haunt
Composer: B.Sevesi
Album: 25 Hawaiian Favourites
Label: Ode

Artist: Inner Circle
Song: Bad Boys
Composer: I.Lewis
Album: Bad Boys
Label: Big Beat

Artist: Blur
Song: Death Of A Party
Composer: D.Albarn
Album: Blur
Label: Food Records

Artist: The Cosby's
Song: How'm I Gonna Lose You This Christmas
Composer: M.Crawley
Album: How'm I Gonna Lose You This Christmas
Label: Self released

Artist: The Maori Volcanics
Song: Tokyo Twilight
Composer: B.Peters
Album: Maori Volcanics Showband 1967–2002
Label: Rajon

Artist: Bongmaster
Song: Ground My Ego
Composer: D.Tamaira, C.Faiumu, I.Gordon
Album: Loop Select 003
Label: Loop

Artist: The Upbeats
Song: Macabre 
Composer: J.Glenn, D.Jones
Album: Big Skeleton
Label: Non Vogue

Artist: The Beastie Boys
Song: (You Gotta) Fight for Your Right (to Party!)
Composer: A.Horovitz, M.Diamond, A.Yauch, R.Rubin, T.Cushman
Album: Licensed to Ill
Label: Def Jam