Unknown Mortal Orchestra's Ruban Nielson has been based in Portland, Oregon for seven years now, but we'll never stop claiming him as our own. Melody Thomas met up with him for a tour of the city he now calls home, including visits to a steakhouse-cum-stripclub, a famous donut shop, and a store dedicated solely to synthesisers.
It's been seven years since Ruban Nielson packed up and moved to Portland, Oregon, along with fellow The Mint Chicks bandmates Paul Roper and Kody Nielson, Ruban's little brother.
It was 2007, the band had just collected a handful of New Zealand Music Awards including those for best group, best album and best rock album following the release of Crazy? Yes! Dumb? No!, but far from sustaining them, their success was starting to feel suffocating.
"The Mint Chicks were getting a bit too established and we were imitating ourselves a bit too much… I think sometimes it's hard to make music.. when you're too comfortable and things are going too well. You kinda need something complex to stir up the sediment in your brain."
For a while it seemed to be working.
When I visited The Mint Chicks in Portland in 2008, Ruban and Paul led me into their studio basement to show me the songs that would make up their next album Screens.
They'd obviously been working hard. The summer had brought an oppressive heatwave but they'd powered through it - resting their computers on containers full of ice to prevent them from crashing. While some would say that Screens seemed incomplete without bassist Michael Logie, who hadn't followed the others to the US, I was too wrapped up in the situation - the basement, the noise, the heat - to notice. It was awesome.

UMO's Ruban Nielson and Melody Thomas outside Portland's Mississippi Records. Photo by Simon Love
For the most part, New Zealand loved Screens. It racked up a bunch of bNet number ones and four star reviews, and then all of a sudden the band was over. At what would be their final gig at the Bacco Room in Auckland, Kody destroyed some gear and stormed off stage, leaving the crowd with the now-famous missive: "Start your own f**ing band".
For those who had followed The Mint Chicks closely it wasn't a huge surprise - the Nielson brothers' relationship was famously volatile. Despite describing Kody as his best friend, Ruban admits the stresses of the industry sometimes proved too much, and fist fights and other fallouts between the two were not uncommon.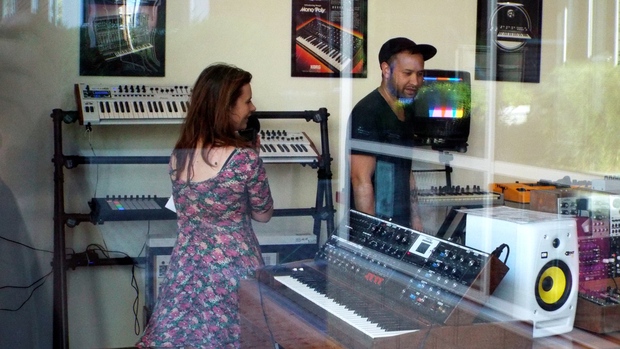 Ruban Nielson and Melody Thomas at Control Voltage, Portland. Photo by Simon Love.
And so Ruban started his own f***ing band - releasing a single track online that year called 'Ffunny Ffrends', with no accompanying information about who made it. Bloggers picked it up and eventually Ruban came forward to claim it as his own - from there, the one-man project spawned in yet another Nielson basement grew to become Portland-based three-piece Unknown Mortal Orchestra (UMO), with bassist Jake Portrait and drummer Riley Geare. 
The first three years of UMO were a blur of releases and awards - including a Taite Music Prize and multiple New Zealand Music Awards - and a gruelling tour schedule that saw one member of the band hospitalised.
We were like kids in a candy store… We ended up steering some real problems. Stuff that seemed so innocent, and then all of a sudden we were thinking 'We're not going to be able to do this for much longer. Somebody's going to have a heart attack..I don't do that anymore. I don't have to do that anymore."
Three years down the track and Nielson says he's having the best year of his life. UMO's third studio album will be released on Jagjaguwar sometime next year, and all the hard work earlier on means Nielson has enough money to "take the year off" - devoting himself fully to his music and family.
"The problem with the last album [was that] I had all these ideas but I didn't have enough time to get it properly done. This time I have money to… make it sound the way I want it to sound."
Which means new equipment, plus bonuses like a recent trip to New York to work with Jake Portrait (the UMO bassist who produced Screens), and even flying Kody over from New Zealand for five weeks of intensive recording (and not a fist fight in sight). 
As Ruban's life has taken on a more "bourgeois" tone, so too has the city he's lived in for more than half a decade. The Portland of comedy television series Portlandia is a recent incarnation - before gentrification it was a town of junkies and strippers, a seedy wonderland fondly recalled in the local motto "Keep Portland Weird".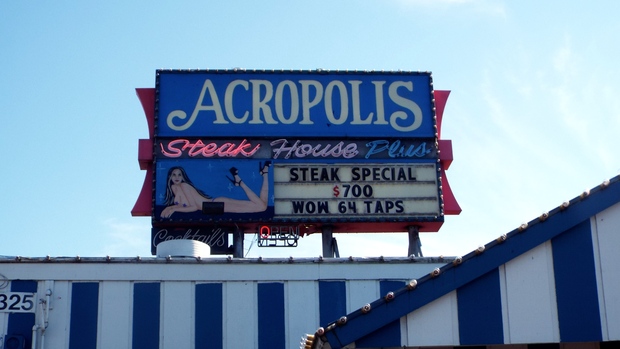 The Acropolis Steakhouse Strip Club, Portland. Photo by Simon Love
Keen for a taste of both sides of the city, I got in touch with Ruban to see if he might show me around his backyard on my next trip to the States. His enthusiastic reply detailed half a dozen venues, from stripclub-cum-steakhouse The Acropolis to the infamous Voodoo donuts and the tiny but beautifully stocked Mississippi Records. And so began another memorable adventure with my favourite musical expat, in Ruban Nielson's Guide to Portland. 
Playlist
Artist: Unknown Mortal Orchestra
Song: From the Sun, Swim and Sleep (Like a Shark), So Good At Being in Trouble
Composer: Ruban Nielson
Album: II
Label: Jagjaguwar
Artist: Unknown Mortal Orchestra
Song: Thought Ballune, Ffunny Ffrends, Rebuild the Theatres, How Can You Luv Me
Composer: Ruban Nielson
Album: Unknown Mortal Orchestra
Label: Seeing