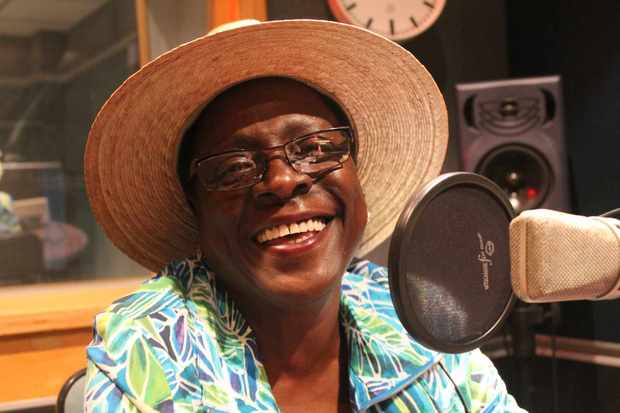 Sharon Jones at Radio NZ  Auckland. Photo by Dru Falkner
When it comes to the modern-day soul and funk revivalist movement Sharon Jones is First Lady. Her band Sharon Jones and The Dap-Kings have been hailed as the most authentic representation of that 60s sound since the decade itself - going beyond imitation to breathe new life into the genre. 
But success hasn't come easy for Jones.  Despite spending a good part of her 20s laying down backing tracks for other artists throughout  the 70s, by the time Jones was ready to put together an album of her own her sound was deemed outdated. Forced to temporarily cast her musical aspirations aside, Jones worked as a corrections officer, security guard and wedding singer before being rediscovered in the late 90s. 
Sharon Jones and the Dap Kings. Photo by Duke Pinzon, courtesy of Daptone Records
Jones released a few singles, began to pick up a following, and then exploded onto the world stage in 2002 with the release of her first full length album Dap Dappin' with Sharon Jones & The Dap-Kings on Daptone Records. The band spent a good decade touring the world and garnering reviews full of adjectives usually reserved for religious gatherings - "uplifting", "miraculous", "pure" and "powerful". And then in 2013, with her fifth album Give the People What They Want ready for release and touring, Jones was diagnosed with bile duct cancer, later updated to pancreatic cancer. 
Not that she let that slow her down too much, either. After rounds of chemotherapy, Jones had her final treatment on New Year's eve. Four days later, she was flying to California for television performances to promote the newly revitalised album tour. 
Once I found out I wasn't going to die, that I was safe, then I was ready to get back on the stage… I always figured my singing, my life, what I'm doing… God blessed me. It's a gift. And this is my time, so get on back out there.
The Give the People What They Want tour hit New Zealand this week with a show in Auckland that left concert-goers and reviewers singing the praises of Jones and band once again.
One such fan was award-winning kiwi soul singer Tyra Hammond, who jumped at the chance to interview one of her musical heroes for Radio New Zealand National. 

Sharon Jones and Tyra Hammond - photo by Dru Faulkner
And hear Sharon Jones talk with Music 101's Emma Smith a couple of weeks after her last dose of chemotherapy.
Playlist
Artist: Sharon Jones and the Dap-Kings
Song: Damn It's Hot (Part 1)
Composer: G.Roth
Album: Damn It's Hot (Part 1)
Label: Desco
Artist: Sharon Jones and the Dap-Kings
Song: Genuine Pt. 2
Composer: G.Roth
Album: Soul Time!
Label: Daptone Records
Artist: Sharon Jones and the Dap-Kings
Song: Now I See, Get Up and Get Out
Composer: H.Steinweiss
Album: Give the People What They Want
Label: Daptone Records
Artist: Sharon Jones and the Dap-Kings
Song: Retreat!, People Don't Get What They Deserve
Composer: G.Roth
Album: Give the People What They Want
Label: Daptone Records
Artist: Sharon Jones and the Dap-Kings
Song: 100 Days, 100 Nights
Composer: Mann
Album: 100 Days, 100 Nights
Label: Daptone Records
Artist: Sharon Jones and the Dap-Kings
Song: You'll Be Lonely
Composer: C.Gastelum
Album: 100 Days, 100 Nights
Label: Daptone Records
Artist: Sharon Jones and the Dap-Kings
Song: The Dap Dip
Composer: Mann
Album: Dap Dippin With Sharon Jones and the Dap-Kings
Label: Daptone Records