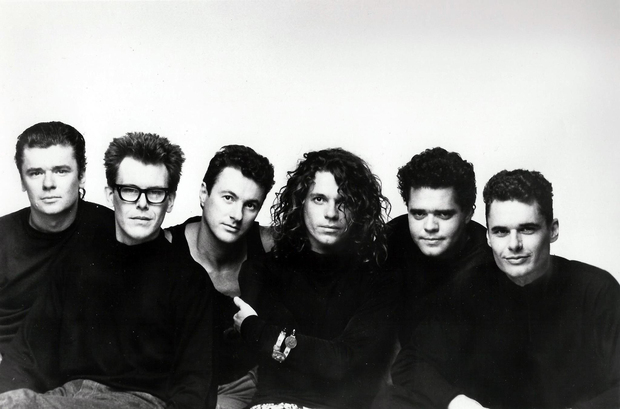 The life and times of Australian stadium rockers INXS hit New Zealand televisions this week in Never Tear Us Apart, a two-part mini-series that covers the Michael Hutchence-led phase of the band's career.
INXS guitarist Tim Farris says of the mini-series -
"The whole thing misses those little in-jokes. You can't get them across, really, in television - the in-jokes that were going on amongst the band at the time when we were doing everything we did to conquer Mt Everest." 
Since Hutchence died in 1997, INXS have had a handful of other vocalists front the band, including a stint with former Elvis impersonator J.D. Fortune, a singer sourced through their mid-2000s reality television show, Rockstar: INXS.
INXS are now no longer, but memories of the band's Wembley-filling heyday are still fresh in their minds. INXS's Tim Farris and Kirk Pengilly talk to Sam Wicks about Never Tear Us Apart and how and why they found multiple replacements for their founding frontman.
Playlist
Artist: INXS
Songs: Need You Tonight, Devil Inside, Never Tear Us Apart
Composer: A.Farris/M.Hutchence
Album: Kick
Label: WEA, Atlantic
Artist: INXS
Songs: Original Sin
Composer: A.Farris/M.Hutchence
Album: The Swing
Label: WEA
Artist: INXS
Songs: Suicide Blonde, Bitter Tears
Composer: A.Farris/M.Hutchence
Album: X
Label: Mercury, XPRO
Artist: INXS
Songs: What You Need
Composer: A.Farris/M.Hutchence
Album: Listen Like Thieves
Label: Atlantic
Artist: INXS
Songs: Perfect Strangers
Composer: G.Beers, T.Bruno, The Matrix, S.Peiiken
Album: Switch
Label: Epic
Artist: INXS
Songs: Pretty Vegas
Composer: A.Farris, JD Fortune, M.Casey, J.Unga
Album: Switch
Label: Epic
Artist: INXS
Songs: Hungry
Composer: A.Farris
Album: Switch
Label: Epic