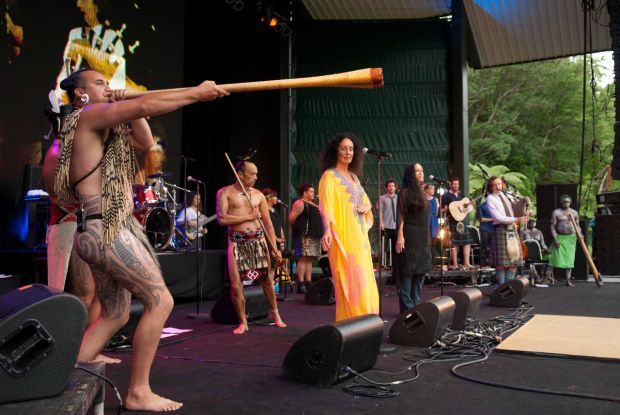 The Boomerang Project at WOMAD 2014. Photo by Michael Flynn.
Celebrating the 'Indigenous Commonwealth', The Boomerang Project is a musical exploration of the similarities between Celtic, Aboriginal and Maori cultures. This, the debut performance of the Boomerang Project features a wonderful collaboration between bagpipes, taonga puoro and didgeridoo. The performers include the band Breabach, from Scotland, Shellie Morris, Casey Donovan, Aaron Burarrwanga and Djakapurra Munyarryun from Australia and  Moana and the Tribe and Horomona Horo from New Zealand.
MUSIC DETAILS:
Boomerang Project performs: Water People, Kahu, Bha Mish, Nanna Song, Murawai, Ancestors, Give Me Strength, Proud to Play.
The programme was produced and presented by Trevor Reekie and engineered by Jeremy Ansell. Music mixed by Darryl Stack. Executive producer John Pilley for Radio NZ National.