Music 101 for Saturday 7 December 2013
2-3pm
Lee Fields
Soul survivor Lee Fields on a lifetime of giving it his all.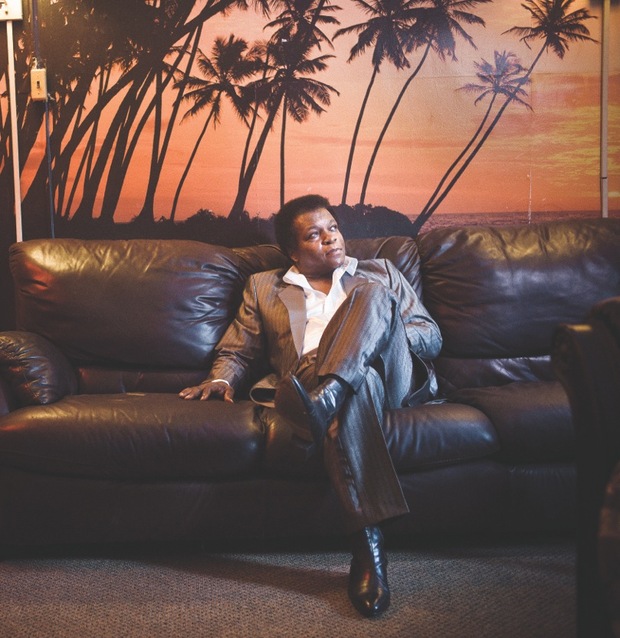 The Means
New Auckland trio The Means give us a lesson in custom-made funk.
Hattie Webb
Hattie Webb of Leonard Cohen's backing vocal duo The Webb sisters shares tales of Leonard Cohen, relationship counsellor.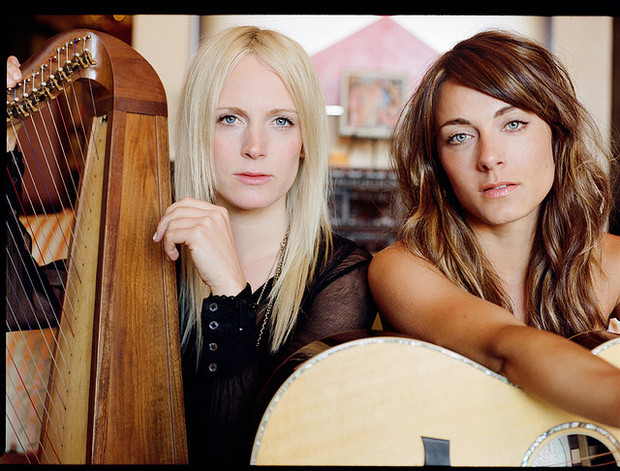 The Webb Sisters. Photo by Lauren Dukoff.
3-4pm
Guitar Wolf
Seiji of Guitar Wolf introduces a new song.
The Melvins
Sludge-metal stalwarts Buzz Osbourne and Dale Crover in conversation with local Melvins-head James Woods of Beastwars
Shocking and Stunning
We head to the warehouse practice space of Wellington post-doom duo Shocking and Stunning.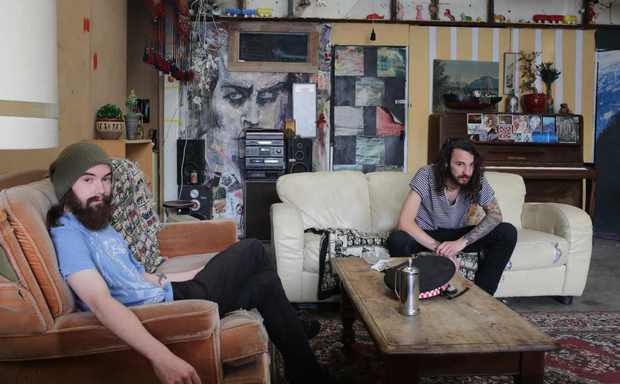 Introducing: Yolanda
4-5pm
The Secret Life of the Orchestra: Percussion
In the second episode of The Secret Life of the Orchestra, Karl Steven delves into the origins of the percussion family, which seems to include just about everything that's ever been hit with a stick.
Dying of the Light
Auckland Industrial doom duo Dying of the Light on friendship, sci-fi and their new EP Monolithium.
Music played in this show
2-3pm
Artist: Badbadnotgood
Song: DMZ
Composer: Tavares, Hansen, Sowinski
Album: BBNG3
Label: Innovative Leisure
Lee Fields
Artist: Shirley Ellis
Song: The Clapping Song
Composer: Chase
Album: The Name Game
Label: Congress
The Means
Artist: D'Angelo
Song: Playa Playa
Composer: D'Angelo
Album: Voodoo
Label: EMI
Artist: The Means feat. Ester Stephens
Song: Fly Low
Composer: Abe Kunin, Marika Hodgson, Esther Stephens
Album: The Ends
Label: Private
Artist: The Means
Song: Modern Marvel
Composer: The Means, Esther Stephens
Album: the Ends
Label: Private
Artist: The Staves
Song: In The Long Run
Composer: Stavely-Taylor/ Stavely- Taylor/ Stavely- Taylor
Album: Dead and Born and Grown
Label: Atlantic
Hattie Webb
Artist: The Webb Sisters
Songs: Baroque Thoughts, Amelie's Smile
Composer: Webb/Webb
Song: If It Be Your Will
Composer: Cohen
Album: Savages
Label: Proper
Artist: The Webb Sisters
Songs: Missing Person
Composer: Webb/Webb
Album: When Will You Come Home?
Label: Proper
Artist: Bonobo
Song: Emkay
Composer: Green
Album: The North Borders
Label: Ninja Tune
3-4pm
Artist: Guitar Wolf
Song: Mesopotamian Lonely
Composer: Guitar Wolf
Album: Beast Vibrator
Label: : Ki/oon Music Inc.
Artist: Beastwars
Song: Caul Of Time
Composer: Hyde/Hickey/Woods/Anderson
Album: Blood Becomes Fire
Label: private
Melvins
Artist: Melvins
Songs: Doctor Mule/Stump Farmer/Tie My Pecker to a Tree/City Dump
Composer: Melvins
Album: Tres Cabrones
Label: Ipacac
Artist: Melvins
Songs: Night Goat
Composer: R.Osbourne
Album: Tres Cabrones
Label: Ipacac
Artist: My Bloody Valentine
Song: New You
Composer: K Shields
Album: MBV
Label: MBV
The Shocking and Stunning
Artist: T54
Song: Return of the Worm
Composer: Sampson
Album: In Brush Park
Label: Flying Nun
Artist: Wooden Shijps
Song: Everybody Knows
Composer: R Johnson
Album: Back To Land
Label: Thrill Jocky
Introducing: Yolanda
Artist: Yolanda
Song: Bats
Composer: Yolanda
Album: n/a
Label: n/a
Gig Guide
4-5pm
The Secret Life of the Orchestra: Percussion
Artist: Akademie Percussion Ensemble
Song: Spanish Dance No. 5
Composer: M. Moszkowski
Album: Akademie Percussion Ensemble Vol. 2
Label: Akademie Percussion Ensemble
Artist: Benny Goodman
Song: Sing, Sing, Sing
Composer: L. Prima
Album: The Essential Benny Goodman (Remastered)
Label: Sony BMG
Artist: James Carter & The Prisoners
Song: Po' Lazarus
Composer: traditional
Album: O Brother, Where Art Thou?
Label: Mercury
Artist: The London Pops Orchestra
Song: Gaston
Composer: A. Menken/H. Ashman
Album: Magical Movie Music
Label: Unlimited Media
Artist: The Hollywood Edge Sound Effects Library
Song: Snare Drum Beat – Marching Tempo
Composer: N/A
Album: Cartoon Trax - 4
Label: The Hollywood Edge
Artist: Mehter
Song: Buna Er Meydani Derler
Composer: trad.
Album: Mehter Marsali – Bnd of Ottoman Military
Label: Cinar Muzik Yapim
Artist: Margarete Babinksy
Song: Rondo Alla Turca (From Piano Sonata in A Major, K. 331)
Composer: W. A. Mozart
Album: Mozart Collection Vol. 2: Rondo Alla Turca
Label: Cobra Entertainment
Artist: Martin Denny
Song: The Girlfriend Of The Whirling Dervish
Composer: J. Mercer/H. Warren/A. Dubin
Album: Backup the Best of Martin Denny
Label: BackUp Best Sounds
Artist: Alexa Still & Gareth Farr
Song: KembangSuling
Composer: G. Farr
Album: Farr: Shadow of the Hawk – Cadenza – Kembang Suling
Label: Morrison Music Trust
Artist: Gamela Angklun, Mas Village
Song: Tujang Biru
Composer: traditional
Album: From Kuno to Kebyar: Balinese Gamelan Anklung
Label: Unspecified (iTunes)
Artist: Berlin Philharmonic Orchestra & Ferenc Fricsay
Song: Symphony No. 9 in D Minor, Op. 125: IV. Presto
Composer: L. Beethoven
AlbumBeethoven 9th Symphony
Label: Pickwick Group
Artist: Leonard Bernstein & New York Philharmonic
Song: Carnaval des Animaux XII. Fossiles
Composer: Saint-Saëns
Album: Bernstein Century – Children's Classics: Prokofiev: Peter and the Wolf, Saint-Saëns: Carnival of the Animals, Britten: Young Person's Guide
Label: Sony BMG Music Entertainment
Artist: Steve Reich and Steve Reich & Musicians
Song: Sextet: 1st Movement
Composer: S. Reich
Album: Steve Reich: Sextet – Six Marimbas
Label: Nonesuch Records
Artist: Ian MacGregor & Scottish Pipe Band
Song: Drum Fanfare
Composer: trad.
Album: Scottish Pipes and Drums: Bagpipe Music of Scotland
Label: Legacy International
Artist: Stan Freberg
Song: The Yellow Rose Of Texas
Composer: trad.
Album: The Crazy World of Stan Freberg
Label: Bluebird Music
Artist: Henry Mancini
Song: Baby Elephant Walk
Composer: H. Mancini
Album: Midnight, Moonlight, ad Magic – The Very Best of Henry Mancini
Label: BMG Music
Artist Baby Dodds
Song: Spooky Drums No. 1
Composer: W. Dodds
Album: Talking and DrumSolos
Label: Smith & Co.
Artist: Buddy Rich & Max Roach
Song: Sing, Sing, Sing
Composer: L. Prima
Album: Rich vs. Roach – The Battle of the Bands and Drums
Label: Stardust Records
Artist: From Scratch
Song: Symphony No. 5 in C-Sharp Minor: 1. Trauermarcsh
Composer: P. Dadson
Album: Songs For Heroes
Label: Rattle
Artist: Gene Krupa
Song: Moonglow (feat. Lionel Hampton, Teddy Wilson)
Composer: E. deLange/Is. Mills/W. Hudson
Album: The Very Best Of (feat. Lionel Hampton, Teddy Wilson)
Label: Spider Music
Artist: BP Renegades Steel Orchestra
Song: Air On a G String
Composer: B. Mann/C. Weil
Album: The Golden Era
Label: Faluma
Artist: Tropical Angel Harps
Song: On Broadway
Composer: J. S. Bach
Album: Showcase: Steel Bands of Trinidad and Tobego
Label: Faluma
Artist: Leonard Bernstein & New York Philharmonic
Song: Young Person's Guide To The Orchestra – Variation M - Moderato
Composer: H. Purcell/B. Britten
Album: Bernstein Century – Children's Classics: Prokofiev: Peter and the Wolf, Saint-Saëns: Carnival of the Animals, Britten: Young Person's Guide
Label: Sony BMG Music Entertainment
Artist: Ney Rosauro
Song: Concerto For Timpani: Horse Rise
Composer: N. Rosauro
Album: Ney Rosauro and the University of Miami Percussion Ensemble
Label: Cane Records
Artist: Alec Guiness
Song: Act IV Scene I
Composer: N/A
Album: Macbeth
Label:Screenland Productions
Artist: Tito Puente & His Orchestra
Song: El Rey Del Timbal
Composer: T. Puente
Album: BD Jazz: Tito Puente
Label: BDJazz
Artist: Hello Skinny
Song: Crush
Composer: Skinner
Album: Hello Skinny
Label: Slowfoot
Dying of The Light
 
Artist: Dying of the Light
Song: Monolithium
Composer: Dying of the Light
Album: Monolithium.
Label: Self-released

Artist: Dying of the Light
Song: Tribulation
Composer: Dying of the Light
Album: Monolithium.
Label: Self-released
Artist: Dying of the Light
Song: Privatise the Sun
Composer: Dying of the Light
Album: Monolithium.
Label: Self-released
Artist: Dying of the Light
Song: Factory
Composer: Shihad
Album: Monolithium.
Label: Self-released
Artist: Junior Murvin
Song: Police & Thieves
Composer: Murvin, Perry
Album: Police & Thieves
Label: Island
Artist: The Drab Doo Riffs
Song: Do the Cat
Composer: The Drab Doo Riffs
Album: Home Surgery
Label: Liberation