Music 101 for Saturday 10 September 2011
2-3pm
Music Awards Season
PJ Harvey was announced as the winner of the United Kingdom Mercury Prize this week for Let England Shake. We have coverage from the BBC.
Meanwhile here in NZ, awards season is in full swing, with the Tuis for production, engineering and cover art revealed this week, along with Hall of Fame inductees Hello Sailor, and the nominees for the main NZ Music Awards in October. Hear Dragon's Todd Hunter here, and hear Hello Sailor speak about their induction into the NZ Music Hall of Fame with Kathryn Ryan here.

The award-winning artwork by Nicholas Keller for Beastwars' album Beastwars. Click on the images to make them bigger.
Gotye feat. Kimbra- Somebody That I Used to Know
.
Take a guided tour of the making of 'Somebody That I Used To Know' - the surprise hit duet from Australian musician Gotye and Hamilton-raised singer Kimbra.
3-4pm
RWC and Music
We investigate the influence the Rugby World Cup might have on live music over the next couple of months.
Beirut
Zach Condon talks about moving pianos around the country, refining his sound, and his new album The Rip Tide.
The Sampler: Stephen Malkmus and The Jicks
Nick Bollinger reviews Mirror Traffic, new work from Pavement's Stephen Malkmus and The Jicks.
Introducing: Force Fields
Gig Guide
4-5pm
Musical Chairs: Isaac Levi Tucker
This week we profile Auckland-born ex-pat Isaac Levi Tucker A pioneer on the New Zealand drum'n'bass scene, his passion led him to London where his post-punk-electro band band Spektrum has been hailed as being '10 years ahead of its time".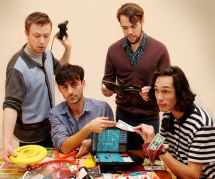 Panther and The Zoo
Auckland band Panther and the Zoo (pictured) write confessional pop songs - we speak to them about their debut album More Fun.