Music 101 for Monday 7 February 2011
Saturday 2 July
2-3 pm
Access All Areas: Lawrence Lessig
Harvard University Professor of Law Lawrence Lessig is a champion of copyright reform for the digital age. He's in Auckland this week for internet talk-fest NetHui but takes time out to describe some of his notions about 'fair use' and 'free culture' in regard to music. Listen to the interview with Lawrence Lessig here
Here's the documentary Rip: A Remix Manifesto - which features Lawrence Lessig and mash-up artist Girl Talk.
Economy Records
We profile a new Wellington label responsible for putting out albums by The Yoots, Lord Echo and The Shogun Orchestra, all big brass-heavy roots bands which have members of Fat Freddy's and The Blackseeds within their ranks. Emma Smith talks with Economy Records spokesperson and Fat Freddy's Drop Trumpeter Toby Laing here.
Deadboy Records
Angelo Munroe was the voice of Auckland hardcore outfit Bleeders, and later Leeches. Now he's building a label: Deadboy Records. Hear Angelo Munroe talks about his grassroots operation- Deadboy Records here.
3-4pm
Kitty, Daisy & Lewis
Middle Durham sibling Lewis talks about the benefits of still living at home in Kentish Town, London, with Mum and Dad who also play bass and rhythm-guitar in the rockabilly ska band he shares with his sisters. Listen to Nick Atkinson talk with Kitty, Daisy and Lewis here.
Vietnam War
Auckland's tattooed country rebels muse about how far their sound has come since they began six years ago. Listen to Vietnam War here.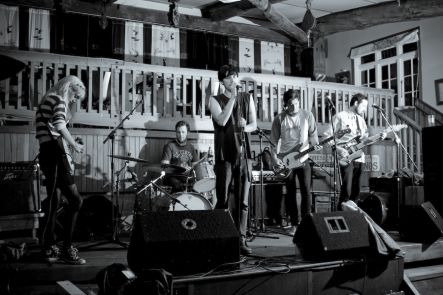 Vietnam War, photo courtesty of Round Trip Mars
Gig Guide
4-5pm
Live: Svelte
This belt-buckle wearing blues-rock trio strut on stage like they own it. They're all stubble and fenders. Suddenly there's an electronic click, a stifled feedback howl and a crackle of leads being plugged in. The drum sticks fire up the first track. Svelte is supporting Ticket at the Kings Arms in Newton Auckland. One band is just releasing its first album while the other is reissuing a lost classic from the early '70s. But there's a father and son connection. Ticket bass player Paul Woolright's son Jamie plays drums in Svelte, behind Supergroove musicians Ben Sciascia on guitar and Tim Stewart, who leaves his trumpet at home for Svelte gigs so he can play bass and sing lead vocals. They love their blues and it shows. More on Ticket here.
Dave Alvin
Despite stints with USA punk acts such as X, Gun Club and The Flesh Eaters, Dave Alvin is best recognised for a mix of blues, R&B and rockabilly - all with a flair for lyrical songwriting. Whether it be with The Blasters - a band started with his brother in the early 80s - or his recent solo work, kick-started with royalties from one of Alvin's songs which was a hit for Dwight Yoakam. Hear Dave Alvin here.