Music 101 for Saturday 15 January 2011
Saturday January 15th
12.11pm The National
Kirsten meets Brooklyn band The National, who played concerts in Auckland this week. Listen here
12.30pm Adventures in Musicland
Part 2 of 3 Nick D in Beirut
War & Beats. The capital city of Lebanon, Beirut, has been ravaged by war for the last four decades, yet it has given rise to one of the most beautiful and vibrant music scenes in the Middle East. Nick D meets with some of the city's most infamous musicians, from underground sensations to legendary superstars, and finds that when people are not sure when it's all going to end, they live their lives - and create their art - to the fullest. More here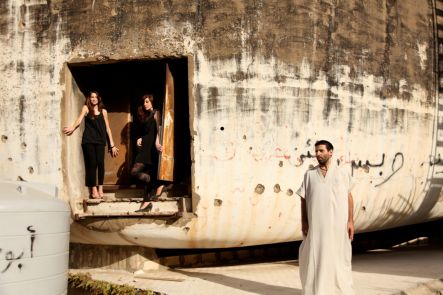 Zeid Hamdan & The Wings in Beirut by Warren Green
1.08pm
As the countdown begins to the Big Day Out a bunch of local bands are rehearsing furiously to cut it with the big acts on the bill. Nick Atkinson speaks with one such group, drum 'n' bass newbies Six60.
NZ record labels Dirty, Dawn Raid and Isaacs have combined forces, forming the Frequency Media Group - Mark Kneebone and Callum August talk about what it means for bands.
2.04 pm Rolling Stones Holiday Banquet Part 1 of 2
Featuring extracts from the concert movie: 'Ladies and Gentlemen: the Rolling Stones' and the 2010 documentary 'Stones in Exile'. Both films revolve around the highly regarded 1972 album 'Exile on Main Street', which was recorded in somewhat chaotic circumstances in the basement of a French villa while the band avoided the UK taxman. This radio programme includes comments from Mick Jagger and Keith Richards. (Denny Somack Productions)
Another chance to win the box set 'Next Stop Viet Nam - The War On Record 1961-2008'
And Canadian producer Caribou talks about playing a brothel in Colombia, his shape-shifting abilities, and upcoming NZ appearances.
3:04pm LIVE: Drab Doo-Riffs
Dirty low-down sci-fi, psycho-surf-rock'n'roll-a-billy quintet The Drab Doo-Riffs play hard and fast songs from their EPs: Bury Me In Drab and Postcard from Uranus at the sold-out Kings Arms in Auckland - the party starts here. Listen here
And we share our excitement about gigs we've seen this week and upcoming gigs around NZ.
4:06 pm Mix Tape: Homebrew's Tom Scott
Celebrity musical guests are invited in to spin their choicest cuts. This week, rapper and philosopher Tom Scott, from hip-hop crew Homebrew.
Tom's Mixtape - songs that were sampled to make his favourite tracks.
Stan Getz - Saudade Vem Correndo
Pharcyde - The Runnin
Bernard Hermann - Theme to Taxi Driver
Skull Snaps - It's a New Day
Steely Dan - Peg
De La Soul - Eye Know
Dave Grusin - Either Way
Notorious B.I.G. - Everyday Struggle
Delfonics - Ready or Not Here I Come (Can't Hide from Love)
O.C.- Word..Life
Singers Unlimited - Clair
Slum Village - Players
Nas - Memory Lane (Sittin' In Da Park)
Reuben Wilson - Set Us Free