Music 101 for Saturday 1 January 2011
Saturday 1 January 2011
Kirsten Johnstone hosts five hours of musical tastiness including interviews and features, live performances, festival and tour reports, and fresh, summer sounds.
12-12.30pm
We speak to Devin Abrams of Drum N Bass crew Shapeshifter, to find out how they manoeuvre the band up and down the country for New Year's festivities. We suspect they must have a Tardus.
Then we'll wake up Mu from Fat Freddy's drop to wish him a happy New Year, and play a special new song from them.
12:30 pm UB40 - Signing Off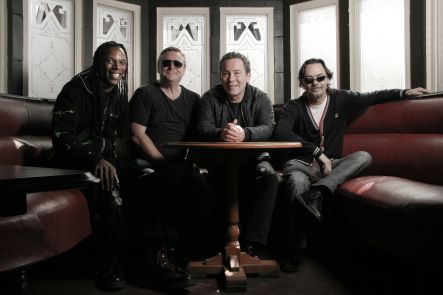 UB40 at The Hare And Hound pub, with Ranking Roger, photo by Ellie Gibbons
U.K. Reggae group UB40 had its first international success right here in Aotearoa. The band went on to have 5 number one singles in the New Zealand charts - and has regularly played sell-out concerts across the country…
2010 marked the 30th anniversary of UB40′s first album "Signing Off". Although the original singer Ali Campbell is no longer with the band, the remaining members decided the mark the occasion by playing the album in full on an extensive tour.
Andrew Dubber met with Ranking Roger from "The Beat" in Birmingham - the band's hometown - to discuss UB40's legacy and to talk to the band members about how they got started, their time in New Zealand, and the 30th anniversary of "Signing Off". See them talking about New Zealand here and there's more here
1:08 pm 2010 Music Review
Music Critics Grant Smithies and Vicki Anderson join Music 101 host Kirsten Johnstone to discuss interesting sounds from the past year. Listen here
2.04 pm Bob Dylan - Portrait of the Artist as a Young Man (Pt 1 of 2)
When Bob Dylan arrived in New York City in the early 1960's, his success challenged Tin Pan Alley's place in the charts, and changed the course of music history.
In this two-part program, you will hear some of Bob Dylan's early demo recordings, and interviews from his first manager Roy Silver, music publisher Artie Mogull, journalist Colin Escott and record producer Steve Berkowitz.
2.35pm Country Joe McDonald
It's been more than 35 years ago that the war in Viet Nam finally came to an end with the fall of Saigon in 1975. The German reissue label Bear Family has just released a whopping 13 disc box set featuring hundreds on recordings inspired by the war from well-known protest singers like Bob Dylan and Pete Seeger to right wing supporters like Sgt. Barry Sadler and Pat Boone to a stockpile of previously unheard music recorded by some of the soldiers who fought the war. One of the primary forces behind the project was Country Joe McDonald, who, along with his band The Fish, led the Woodstock Nation in a version of 'Joe's Fixin' To Die Rag' in 1969. Listen here And be in to win a box set of your own here!
3:05pm Live: Cairo Knife Fight
One of the country's most exciting sonic duos right now is singing drummer Nick Gaffaney (respected drummer and percussionist for many top local artists) and guitarist singer Aaron Tokona (of A Hori Buzz and formerly of Weta). As Cairo Knife Fight they own the stage at the Kings Arms in Auckland. RNZ captured the performance. Listen here
Live highlights of 2010
The Music 101 team share some of their favourite live music moments in the past year,(Listen here) and we have a round up of gigs coming your way.
4:05 pm Mix Tape: Anika Moa
Celebrity musical guests are invited in to spin their choicest cuts. Today: accomplished singer/songwriter, winner of the NZ Music Awards 2010 best female artist award, and hard-case gal Anika Moa steps up.
Anika's Mixtape - Listen here(some songs not posted due to copyright restrictions)
Julia Deans - Little Survivor
Voom - Beth
Hirini Melbourne - Whiti Te Marama
The Topp Twins - Calf Club Day
Maisey Rika - Reconnect
Ed Cake - Golden Man
Lydia Cole - On My Hand
Crowded House - Better Be Home Soon