Music 101 for Saturday 13 November 2010
13 November 2010
2-3 pm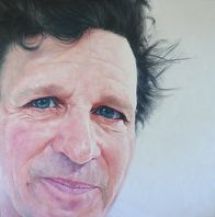 We visit an exhibition of paintings inspired by the music of Barry Saunders. (Portrait left by Marty Welch - click for more images)Listen here
Eva Prowse has a history performing with her father Chris as a country/folk duo and announced herself to the mainstream as part of the last Fly My Pretties line-up. She joins us to play a session of perfectly crafted, and personal pop folk songs from her debut album I Can't Keep Secrets. Listen here
And Small Craft on a Milk Sea, a soundtrack for a movie you may only see in your mind, by Brian Eno.
3-4 pm
We cast an ear over indie-don Sufjan Steven's new album The Age Of Adz. In contrast to his breakthrough album Illinoise, the new record sees him musing on love and playing with electronics. Listen here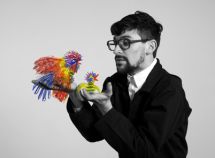 Hear from Dudley Benson, who has reworked Hirini Melbourne's songs about birds using mainly voice - beatboxing, choir, clicks, whirrs and wails. Listen here
Ladi 6 tells us about her time living and recording in Berlin, and the new album - The Liberation Of.....
And our roundup of live music - including some exciting rumours...
4-5 pm
The Rise of the Bedroom Music Producer
As it becomes increasingly easy to record music at home and achieve high quality results, more musicians are embracing it as a viable option.
But how is this affecting the recording industry? And are our expectations as music consumers changing?
We talk to Sam Scott from the Phoenix Foundation, A&R managers at EMI, Jonathan from The Brunettes/ Lil' Chief, the manager of York St recording studio, and tutors from the Music and Audio Institute of NZ. Listen here
And sneak backstage during one of Leonard Cohen's Auckland shows to meet ace soundman Mark Vreeken, who wrestles with the low-end rumbles and cavernous acoustics of the large steel and concrete arenas that Cohen fills night after night.Listen here