Music 101 for Saturday 17 April 2010
Saturday 17 April
2-3 pm
British rock guitarist Jeff Beck talks about his new album 'Emotion & Commotion', and his recently resolved long-time feud with Eric Clapton.
Brooklyn band MGMT talk about the pitfalls of fame as well as writing songs about - and in the style of - other musicians.
3-4 pm
Trevor Reekie speaks with the "William Faulkner of Jazz" - pianist and wordsmith Mose Allison in Access All Areas.
Award-winning Canadian roots guitar and banjo player Joël Fafard performs live for us. Listen here
Live music roundup, including a cross to Real Groovy Auckland for Record Store Day.
4-5pm
Zane Lowe - Urban Disturbance in Broadcasting House Part 2 of 2.
Media commentator Andrew Dubber covers the career of BBC Radio One presenter Zane Lowe, and considers his challenge for the heavy-weight title of New Zealand's Most Successful Broadcaster.
Lowe started out as a rapper in a handful of Auckland bands - before going on to achieve award winning success as one of the U.K's leading broadcasters…In this final episode, he decides to leave New Zealand and heads to the United States… Taking the next big step in his career.
Listen here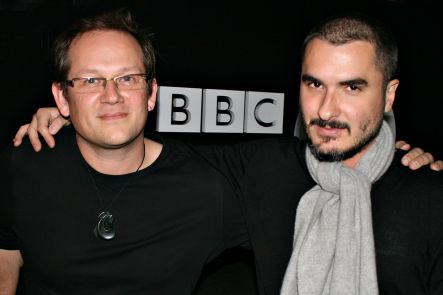 Andrew Dubber with Zane Lowe
And Scribe & Savage talk love and war as they tell of the follow up to the 'I Love the Islands' Tsunami Benefit concerts, and preview their upcoming 'Battle of the Century' tour - and spin us some tunes.