Music 101 for Saturday 10 January 2009
Music 101 The Summer Edition Saturday 10 January 2009
At 12:15pm- Kirsten speaks to ratbag French trio The Teenagers
12:30 pm Rock'n'Roll Caravan
Armed with only his horn and a Radio New Zealand recorder, this summer Supergroove's Nick Atkinson will board the Rock'n'Roll Caravan tour as Supergroove criss-cross the country with Elemeno P.
How will the boys react to the untamed beauty of the West Coast of the South Island? Will Elemeno P drummer Scotty's caravan alterations stand up to the punishing schedule? Will Lake Hawea be able to cope when Shihad join the tour in Central Otago? What will Scorpio Girls sound like when performed with two guitarists, two bassists, three singers, a three piece horn section and Scotty on cow bell? In 'Rock'n'Roll Caravan', Nick Atkinson presents a tour diary charting the adventures of this musical behemoth and providing an insight into the hard-rockin' life of two of the countries hardest working bands.
After the news at one, American drum folk trio The Dodos will come in to serenade us with their chaotic love songs; And we speak to Jason Spaceman from Spiritualized.
Between two and three we'll check in with our people on the ground at the Parihaka Peace Festival, and have a report back from the Canaan Downs New Years Eve celebrations.
3.05 pm Ladyhawke Live
Pip Brown was first spotted on New Zealand stages back in 2001, as the guitar shredding femme fatale of Wellington rock band Two Lane Blacktop. When the band imploded, Pip moved to Australia, spending the next few years collaborating with various people, DJ-ing, and honing her production skills. Pip's solo project, Ladyhawke, has become her main focus. She's got major label backing worldwide, she was one of the most hyped ladies in pop in 2008, and she's touring non-stop around the world. Ladyhawke and her band showcased her debut album in August. Radio New Zealand recorded this 80s-sounding electro pop set at the Kings Arms in Auckland. It includes favorites Paris Is Burning and Back Of The Van.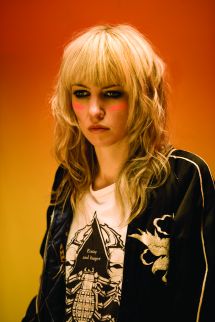 3.30pm The Who - Their Generation
Presented by mod aficionado Paolo Hewitt, episode two of this BBC documentary 'The Who - Their Generation' focuses on the making of the band's debut album 'My Generation'. Featuring exclusive interviews with Roger Daltrey and legendary record producer Shel Talmy. Part 2 of 4.
4.05 pm Mix Tape
Celebrity musical guests are invited in to spin their choicest cuts. Today: P-Money
The Mixtape: P-Money
P-Money featuring Vince Harder - Everything
Queen- Another One Bites the Dust
Run DMC - Peter Piper
Inner City - Good Life
Public Enemy - Contract on the World Love Jam
Public Enemy - Brothers Gonna Work It Out
De La Soul - Say No Go
Beastie Boys - Pass the Mic
Kenny Dope - Get On Down
The Bucketheads - The Bomb
The Prodigy - Firestarter
Armand Van Helden - You Don't Know Me
Timbaland - Way I Are