Music 101 for Saturday 6 December 2008
6 December
Hip-hop star Kanye West has taken a dramatic u-turn on his new album '808s and Heartbreak', swapping rhymes and beats for auto-tuned singing and synths. During his time in NZ last week Kanye spoke about his new pop direction, avoiding paparazzi and his claims to being the voice of a generation.
NZ Music website Cheese On Toast turns five years old this week- we speak to Andrew Tidball about being a big brother to the NZ indie community.
Nick Bollinger listens in on Tim Finn's 'The Conversation', the sparsest, most low-key album the former Split Enz frontman has made.
We also hear a song from Tim's brother Neil, recorded live at WOMAD 2008.
Robert White, songwriter from Brighton's The Milk And Honey Band takes a break from his New Zealand holiday to play us some of his acoustic pop songs
We head to rehearsals with local band of brothers The Mots - Jol, Eden and Will Mulholland, plus their Swiss bass man Greg Hillier;
Investigate the state of All Ages gigs in Auckland during Access All Areas with Troy Ferguson.
And at 4.10 pm - The Quincy Conserve Chronicles Part One of Two
Brassy rockers Quincy Conserve were pulled together by pioneering rock 'n roller Malcolm Hayman to fill a residency at Wellington's Downtown Club in 1967, and proved consistent crowd pullers wherever they played, becoming known as one of the tightest bands in the land.
Hayman's raspy soulful voice fronted the seven piece band which merged Maori showband stylings with blues and soul influences that were popular with the US-troops here on rest and recreation during the Vietnam.
Producer Keith Newman tracked down former members locally and offshore for The Quincy Conserve Chronicles.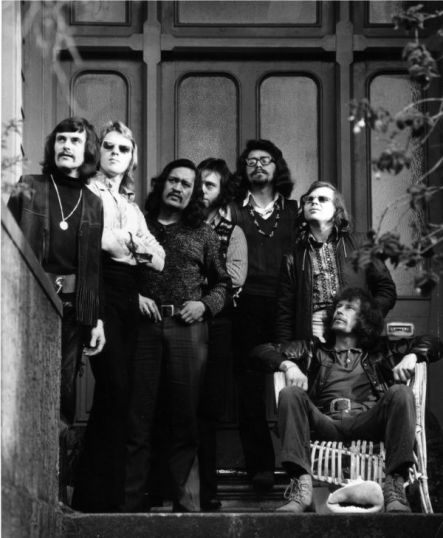 Quincy Conserve, photo from the Brown-Sharpe collection