Music 101 for Saturday 18 October 2008
18 October
Luke Buda drops by to play songs from his forthcoming album Vesuvius
We speak to Kasey Chambers and Shane Nicolson, the young Australians bringin country back
Nick Bollinger reviews the latest in Bob Dylan's Bootleg releases- 'Tell-Tale Signs'.
We talk to Antsman, MC Mana, Raashi Malik and Lisa Tomlins about providing the musical voice for Wellington collective Rhombus and synthesizing sounds on their new self-titled album.
In AAA Trevor Reekie talks to 2006 Arts Laureate Alastair Galbraith about the composition of experimental music and living the life of a grand musical experiment.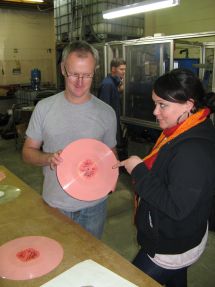 4.10 pm Coco on Wax
Vinyl is not dead! In an era of file trading and music-on-tap, the humble record has retained its boutique value, holding its own as a collector's item as much as a music medium. In 'Coco on Wax', vinyl virgin Coco Solid and RNZ reporter Sam Wicks cross the ditch to watch Coco's lo-fi chutzpah-heavy rhymes pressed to wax - a 12" slab of shocking pink vinyl, no less - at record pressing plant Vinyl Factory, in Australia. Then they hoof it back to Auckland with the fresh batch for a release show at Coco's Bar.
And Nick takes a listen to the new, dance floor oriented record from SJD.