Music 101 for Saturday 27 September 2008
This Saturday in M101: Presenter Kirsten Johnstone meets a banjo teacher, and reports on her increasing obsession.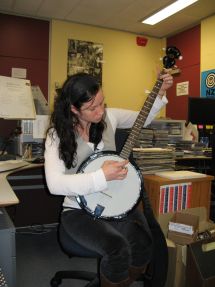 I
In Access All Areas: the vinyl 'LP' - or Long Player - record is an archaic form of music delivery which changed the world (music world, anyway...) we track its history.
We review a collaboration between stoner drone man Spectrum (Spaceman 3, Sonic Boom) and Captain Memphis - folk & blues producer Jim Dickinson.
Willard Grant Conspiracy are an American band who claim to have over thirty members (although not all at the same time...) we speak to main man Robert Fisher, who's coming to play and maybe recruit some new bandmates.
We attend the launch of a Christchurch-based project which merges visual art, lyrics, poetry and music: Original Branch Manual,
Assess a spoken word and music album by Jim Christy.
And we'll hear the final episode of Behind The Smile - the Real Life of Bob Marley.