Music 101 for Saturday 2 August 2008
Saturday August 2
We speak to singer Renee-Louise Carafice, about dumpster diving, cold Chicago winters, cruel German psychiatrists... Oh, and her debut album "Tells You To Fight"
A band of Gypsies, the Benka Borodovsky Bordello Band, take over the airwaves for a set of stonking live songs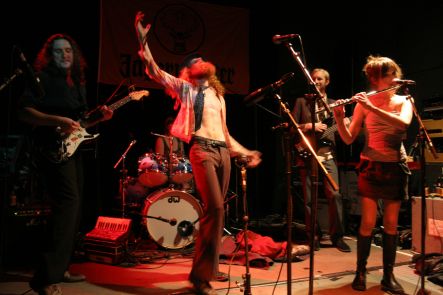 Troy Fergusson wonders if songwriting is in the blood as Strokes guitarist Albert Hammond Jr releases his second solo album, and reviews an album that sounds like it was made in 1967;
And We'll talk to British producer The Bug about the stresses of life in London Town and producing a dub step album as a sound track to urban decay.
At 4.10 pm Musical Chairs goes to Hamilton.
Beyond the hype of New Zealand Music Month, Hamilton celebrates its music in its own way.
The 4th annual Hamilton Circle Jerk ended May in pure self-referential style and involved 15 local bands paying tribute to each other.
Initially started as a back handed comment on Hamilton's absence from national music funding, the event has turned into one of the highlights of the cultural year in the city of the future.