Music 101 for Saturday 31 May 2008
31 May 2008
Chris Knox drops by for a chat about things arty and musical, and plays us a song live in the studio.
Nick Bollinger finds out whether starlet Scarlett Johansson can actually sing, and checks out two very different projects from members of the Grenell family- O.G. and Harriet and the Matches.
Jody Lloyd catches up with some local acts who are celebrating NZ music month in Melbourne:
Moana Maniapoto tells us about her new album with The Tribe;
We've got a sampler of songs recorded live at the Monkey Records showcase last week - hear the gypsy swagger of the Benka Borodovsky Bordello Band, the eastern drones of An Emerald City, and get funked up with the Hot Grits.
And after four, Napier-based sound-scapists Jakob, Live at the San Francisco Bath House, Wellington.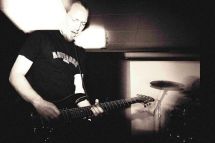 The trio combine Jeff Boyles (pictured) lush, guitar loops with the muscular bass lines of Maurice Beckett and the solidity of Jason Johnsons sticks, evoking the landscape of the Hawke's Bay hills, and the Pacific Ccean on its edges.