A local bluegrass group has learned the benefit of of keeping a close eye on social media after catching a break that could see their music streamed into millions of homes.
Last year You, Me, Everybody landed a plum spot performing their song Stranger in the new series of the hit Netflix show Sweet Tooth, which starts streaming this week.
Sweet Tooth, which was filmed in New Zealand, was a massive hit in 2021 and millions of global fans have been eagerly awaiting its second season.
Bill Hickman reports.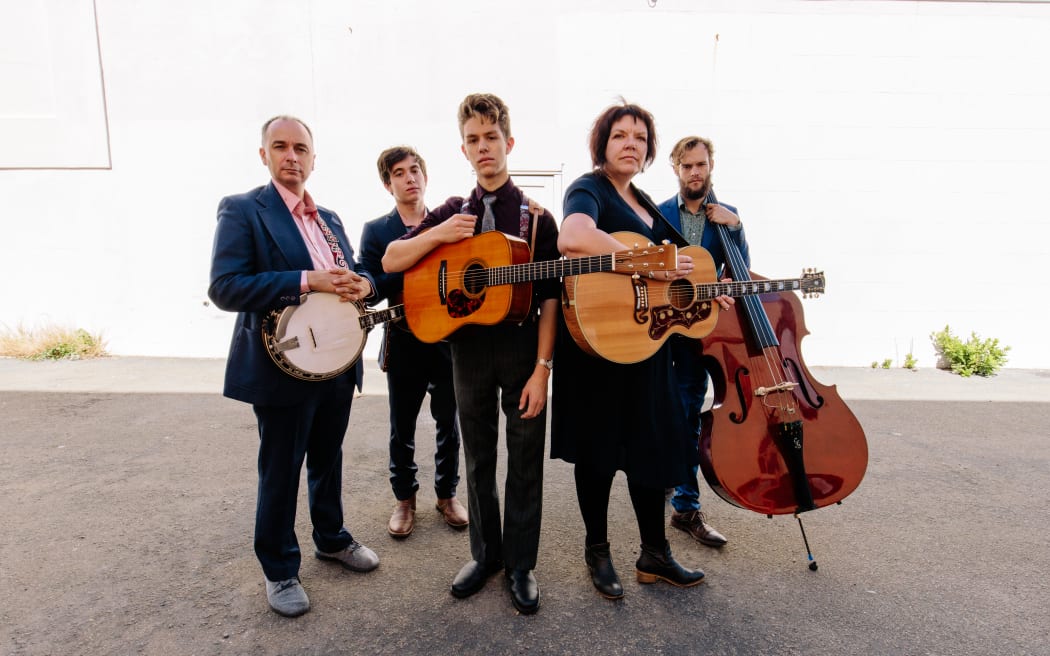 After spotting a fan's social media post recommending them, You, Me, Everybody singer and guitarist Kim Bonnington locked the progressive, bluegrass five piece into a unique slot as the backing band for a scene in the massive Netflix drama Sweet Tooth.
"I responded straight away and said, 'Yes, there is nobody else you want other than us'. I emailed them and sent them our music and within half an hour they said they were stopping the search. We were it," Bonnington said.
Filmed in New Zealand during 2020, the first series of the post apocalyptic, fantasy, drama streamed into nearly 60 million homes.
Film reviewer and location scout Graeme Tuckett said the return of the production for a second series in 2022 was a huge boon to the country's film industry.
"Internationally it's a big, renowned series. Ninety five percent of the crew were from New Zealand and 80 percent of the people on screen were Kiwi actors, which I think is terrific," Tuckett said.
Sweet Tooth's story was set in the wilderness of the middle American states of Wyoming and Colorado near the birthplace of bluegrass music.
Kim Bonnington said You, Me, Everybody performed their song, Stranger, in the midst of a raucous party scene.
"There were skyrockets going off and lots of lights, people drinking what appears to be moonshine and getting really festive," she said.
The song, penned by guitarist Laurence Frangos-Rhodes, embodied the frenetic, virtuosity of the group's traditional Appalachian influences while an unusual minor key underlines the sinister, uncertainty at the heart of the show's dystopian setting.
"It's a challenging song. It's about the assumptions we make when we meet other people. Bluegrass isn't usually written in a minor key. It has that upbeat feel that traditional bluegrass has but the minor key puts that little bit of suspicion in there," Bonnington said.
Non-disclosure agreements kept the group tight lipped about the show for nearly a year.
Bonnington said the wait forced them to think out of the box for the best ways to capitalise on the moment the show became available.
"It's been very hard. We couldn't tell anybody. We're approaching venues going 'the reason why you might care is for some reason that I can't tell you yet but it's exciting'," she said.
The band had an international social media campaign planned to accompany a re-release of the song and Bonnington said she had been covertly training music app Shazam to recognise Stranger to help anyone curious about what they heard on the show.
"We knew that we needed to make the most of the opportunity, not because we want to be famous, it's just that we want as many people as possible to hear our music. We're trying to make sure we do as much as we can, while also staying humble and realistic of the fact that we are just a little bluegrass band from New Zealand," Bonnington said.
Now the cat is out of the bag You, Me, Everybody will take to the road with dates of a national tour to be announced during New Zealand music month.
Bonnington said the next year was the beginning of the real test of the band as they sought to seize a moment none of them would have ever predicted.
"It's one thing to call this a big break but that doesn't mean that's the end of the job. Once you are given an opportunity it's actually as much about what you do to make the most of it and I didn't want to walk away from this experience wondering if I could've done more to make the most of it."