Marrying Out
In pre-multicultural Australia, marrying across the Protestant/ Catholic Divide was consorting wth the enemy for many families. Mixed- religion couples describe being estranged, disinherited and… Read more Audio

Children raised in a mixed marriage had to negotiate a delicate balancing act. Until 1966, the Catholic Church required both parties to pledge in writing that all children would be raised Catholic… Read more Audio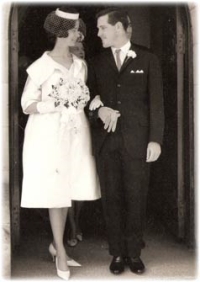 John and Helen Haynes on their wedding day in 1962. John, a Protestant, was cut out of three family wills for marrying Helen, a Catholic. Source: John and Helen Haynes.
Siobhan McHugh is an award-winning writer and documentary maker. She lectures in Journalism at the University of Wollongong. Marrying Out won a gold medal at the New York Radio Festival in 2010.
The music for Marrying Out was composed by Melbourne composer Dr Thomas Fitzgerald, with the assistance of the Faculty of Creative Arts at the University of Wollongong. An award-winning composer, conductor and performer, Tom plays piano, violin, viola and other instruments in the series. His song Marrying Out is performed by folk artist Kavisha Mazzella. Lawrence Allen is the male vocalist.