Insight for Sunday 9 March 2014
8:12 AM.Veronika Meduna follows the aftermath of an Antarctic expedition getting stuck in the ice over Christmas Audio
When the privately-funded Australasian Antarctic Expedition aboard the polar vessel Akademik Shokalskiy became trapped in  fast ice last Christmas, it triggered a $2-million international rescue operation.

Attempts to help the stranded vessel meant ships were diverted and the Antarctic research programmes of four nations were delayed.
As Antarctic Treaty nations prepare for their annual meeting and the International Maritime Organisation is finalising a new Polar Code to ensure safe shipping operations in Antarctic waters, Veronika Meduna, from Radio New Zealand's science programme Our Changing World,  investigates what long-term impacts the incident will have on both Antarctic science and tourism.
Vessel photo courtesy of Barbara and John Tucker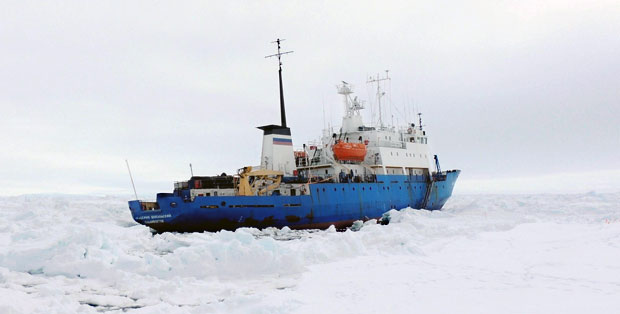 Video: Difficulties transferring all-terrain vehicles  for passenger transport onto the ice
Video courtesy of B & J Tucker