Insight for Sunday 12 May 2013
8:10 AM.Health Correspondent Karen Brown looks into the rising rates of diabetes Audio
The world is in the grip of a diabetes epidemic that some say could eventually overwhelm already stretched health budgets.
New Zealand is far from immune from the threat - which a recent Otago University study showing eight percent of the population has the condition.
Medical specialists say there are signs of progress in managing type two diabetes, but it's patchy.
Those with type 1 diabetes, meanwhile, wish their condition had a different name.
Radio New Zealand's Health Correspondent, Karen Brown, looks at diabetes from all sides, at what's working, what's not, and what more could be done.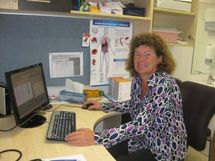 A diabetes nurse specialist, Kate Smallman, of the Diabetes Projects Trust, about to begin a clinic at East Tamaki Healthcare in Otara, Auckland. 
The trust, which will be 21 this year, has numerous initiatives under way at the three Auckland district health boards to address the growing number of people with type two diabetes.