Insight for Sunday 3 March 2013
8:12 AM.Is New Zealand cricket in crisis or is it suffering just another dip on the performance rollercoaster? After a woeful test series against South Africa and what's widely regarded as the mis-management… Read more Audio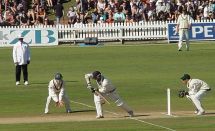 Is New Zealand Cricket in crisis or is it suffering just another dip on the performance roller coaster?
After variable performances in the short forms of the game against the visiting  England team, a woeful test series against South Africa and  what's widely regarded as the mis-management of Ross Taylor's sacking as captain, the Black Caps hope to regain some international respect in the upcoming three test series in March.
Radio New Zealand Sports Reporter, Stephen Hewson,  considers if there is a way back for a side which has slumped so far down the test world rankings that the tour's being labelled a waste of time in some quarters?
Black Caps at the Basin Reserve
Image courtesy of Craig Anderson