Insight for Sunday 9 September 2012
8:12 AM.Megan Whelan considers the appalling violence and health statistics for many Pacific women and asks if more female MPs help? Audio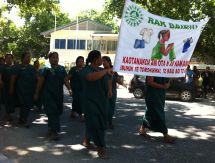 The Pacific region has some of the worst statistics for women in the world, with about two thirds of women having suffered some kind of violence at the hand of a family member.
Women's economic power is lower, as are rates of health and education.
At the same time, the region has few women in elected positions.
Insight looks at moves to increase political representation across the region, and at whether that will improve the status of Pacific women.
And are New Zealand and Australia are doing enough to help women living in the Pacific in some of the world's poorest countries?.
Image:  Women's organisation in Kiribati holds anniversary parade.