Insight for Sunday 6 May 2012
8:12 AM.Karen Mangnall reports from Nuku'alofa onthe challenges facing Tonga and the new King. Audio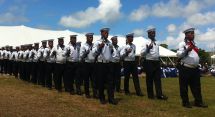 King Tupou VI was installed as Tonga's new Monarch at the end of March,  but his powers are very different to those held by his Father.
The King's brother, George Tupou V relinquished many of his powers as Tonga moved toward greater democracy.
Radio New Zealand's Pacific Correspondent, Karen Mangnall, was in Nukualofa for the late King's funeral and reports on what challenges might lie ahead for the new King.