Insight for Monday 26 December 2011
9:06 AM.Nick Butcher investigates the use of foreign charter vessels in NZ's deep water fishery. Audio
The New Zealand fishing industry is a $1.5 billion annual export earner.
But is this country giving away it's resource; failing to add value to fish products and create jobs in this country?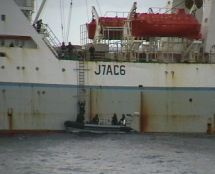 Foreign hoki trawler being checked
by Navy and Fisheries officers.
Half the deepsea fleet are foreign charter vessels and much of the fish caught is processed in China.
Insight asks if the New Zealand could get more benefit from it's offshore fishery and if its international reputation is being damaged by practices that have been in effect for the last thirty years.