Insight for Sunday 30 October 2011
8:12 AM.Insight hosts a public debate on MMP, moderated by Philippa Tolley and Julian Robins. Guests include the former National Prime Minister, Jim Bolger, the former Labour Deputy Prime Minister, Michael… Read more Audio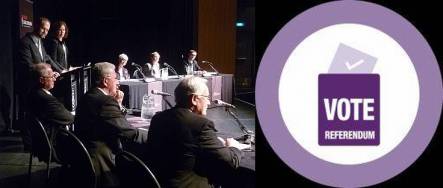 When voters go to the polls in a few weeks they will not only be taking part in the General Election, but also a voting system referendum.
Insight hosts a public debate on MMP, moderated by Philippa Tolley and Julian Robins, with the help of  Victoria University and Te Papa, recorded earlier before a live audience.
Guests include the former National Prime Minister, Jim Bolger, the former Labour  Deputy Prime Minister, Michael Cullen,  the former National  Finance Minister,  Ruth Richardson, and  the former  Green Party   Co-leader, Jeanette Fitzsimons and others who will discuss the MMP referendum.