Insight for Sunday 28 August 2011
8:12 AM.Insight looks at the latest suicide statistics. Audio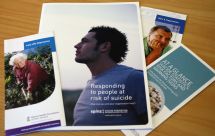 Each year in New Zealand, the number of people who take their own lives is higher than the road toll.

A review of media guidelines on the reporting of suicide is currently underway, with some arguing that greater openness could help address the problem.

Erina O'Donohue  investigates what's being done to tackle what's often described as a silent epidemic.
Information on suicide prevention and support services:
Lifeline: 0800 543 354 or  Youthline: 0800 376 633 or  Depression helpline: 0800 111 757 or  Samaritans: 0800 726 666
Ministry of Health: http://www.moh.govt.nz/suicideprevention
Suicide Prevention Information New Zealand:  http://www.spinz.org.nz
Casper - Community Action on Suicide Prevention, Education and Research: http://www.casper.org.nz