Insight for Sunday 9 January 2011
8:10 AM.Sally Round investigates the push for more Mandarin speakers in New Zealand. Audio
Over the summer Insight broadcasts the highlight programmes from 2010 with in-depth analysis of topical issues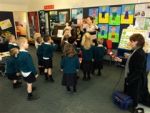 China is this country's second largest trading partner but there are fears that scant knowledge of its culture and language is hampering New Zealand business.
The number of students learning Mandarin is only just higher than those taking Latin, while thousands more choose to learn French.
With the Prime Minister last year calling the situation "deplorable," Sally Round found out what's being done to overcome the problem.
First broadcast on August 29th 2010
Photo: Children at a New Zealand kindegarten have a Mandarin lesson