Insight for Sunday 22 February 2009
8:12 AM.Penny MacKay looks at tagging and investigates what works in the battle to wipe it out Audio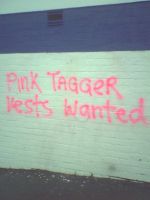 Tagging has become a serious business.
It ended the life of a teenager and has an Auckland businessman facing jail.
It sucks tens of millions of ratepayer dollars from the coffers of local authorities and it has fed-up judges throwing young people into prison.
What can be done to tackle it? CCTV on every possible corner? Humiliating pink vests? Cash rewards for dobbing in taggers?
Penny MacKay looks at what's being done to try to eradicate tagging and asks whether the money would be better spent on prevention rather than cure.
Picture: Wellington taggers mock the council's "pink vest" punishment