Insight for Sunday 30 November 2008
8:12 AM.Monique Devereux looks at how the proposed Central Plains irrigation project has divided the Canterbury community Audio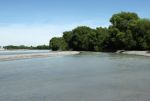 The Central Plains Water Enhancement Scheme is a vast irrigation project that would take water from the rivers that border the Canterbury Plains and make the farmland tenable even in the driest of summers.
Some say it will realise a dream of guaranteeing livelihoods with the promise of water.
For others, the proposal is an on-going nightmare that they say will ruin businesses and erase hundreds of years of farming history from the landscape.
Monique Devereux reports.
Picture: The Waimakariri River; one of those from which water would be taken