Insight for Sunday 23 March 2008
The fate of Jacob Zuma (pictured) - the man most likely to become South Africa's next president hangs in the balance.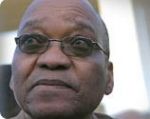 The ANC President is facing a raft of corruption charges and is waiting to hear whether the Constitutional Court will throw out a crucial piece of evidence against him. Mr Zuma says he's innocent and that the charges are part of a political conspiracy directed from the office of South Africa's current president, Thabo Mbeki.
The BBC's Martin Plaut has travelled to Johannesburg and Cape Town to investigate the truth and rumours surrounding the case.
Please note that the audio of this programme is available on the BBC Assignment page