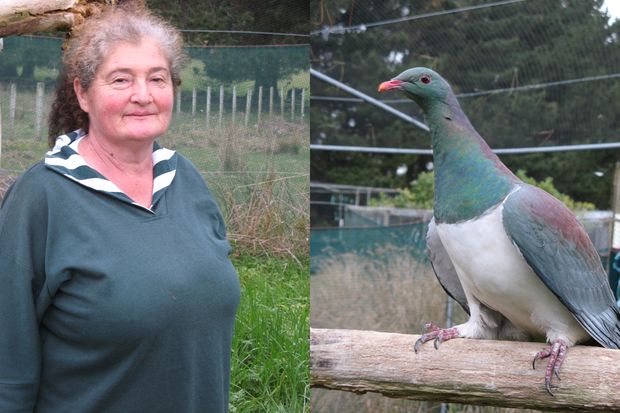 Sometimes the sound of chatter in the Whanganui Manawatu Bird Rescue Centre is so clear, head bird carer Dawne Morton (above) is sure someone is in an aviary.
But they're not.  It's just a fiesty magpie with too much to say.
"He does sirens, whistles Merry Christmas, Happy Birthday, Pop Goes the Weasel, we have Tchaikovsky's overtures, then he does little girls' voices and men's voices."
There's also a tui who lives on the Turakina property who mimics the phone ringing and says "Bird Rescue Centre".  But really Dawne doesn't want the birds to talk, she wants them to recover from injury and be returned to the wild.
Each year the nearly 30-year-old centre helps over a thousand, mainly native birds, recover from various injuries. Kereru often break wings or breast bones flying into windows, whereas hawks and even kingfishers tend to get hit on the road.  
Dawne says if the birds have multiple fractures it can take months to get them flying again, but generally they do.
Are hawks silly birds for not getting out of the way of cars?  Dawne says emphatically no. They have a primative lock mechanism which means when they land on a dead possum on the road the claws lock in.
"A male hawk is 500 grams, a block of butter. Wing spang a metre. You have a block of butter trying to pick up a heavy possum and they can't do it. A female can weigh 850 to 1000 grams, she can pick up a hedgehog."
The initial veterinary work of x rays and bandaging is done at Massey's Wild Base unit near Palmerston North, then the birds are couriered back to Dawne, who relies on help from volunteers to keep the centre open.
To help prevent birds striking windows the Bird Rescue Centre is selling clever window stickers that  brilliantly relect ultraviolet sunlight invisible to humans but that glow like stoplights for birds.
http://birdrescue.co.nz