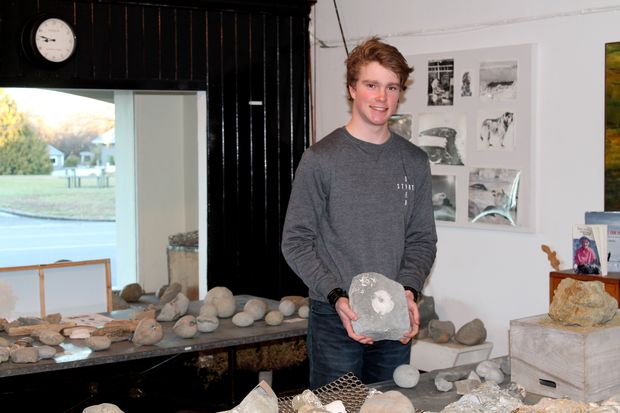 A vacant shop on Fairlie's Main Street has been turned it into a quirky natural history museum.
Macgregor Willis (above) a 16-year-old year student at Mackenzie College took over the hairdressing salon, refurbished it will tables and cabinets and now its home to his impressive collection of fossils.
His passion began several years ago when his father started taking him to a popular fossil collecting area near Waipara in North Canterbury called Glen Afric. Macgregor says "We'd often come back with a couple of backpacks full of rocks and now we have this!
More recently he has found fossils near Oamaru and in the Limestone rocks along the banks of the Pareora River. There is also a small collection of fossils from his grandfather. One is of fossilised leaves in basalt.
"This is from a Glossopteris tree. This came from Antarctica when it actually grew plants and is probably the most valuable bit in here".