Relda Greenhalgh says she's an expert at "making a big job from a small project".
Relda and her husband Moss Johnston farm 130 hectares about an hour north east of Kawhia in northern King Country.
Two seasons ago Moss took over running the dairy grazers, leaving Relda to look around for something to keep herself busy, and make the farm a bit more money.
She says an ideal project came up when, not too far away, her grandmother's cousins, two women in their eighties, were selling up their flock of multiple birthing sheep.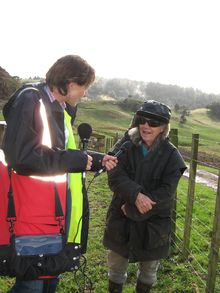 They had a Romney, Suffolk , Booroola mix, with the ewes regularly producing four or five lambs each.  Booroolas were brought into New Zealand in the 1980's to improve the fertility of merinos, and these two enterprising women added some of them to their operation.
Relda collected forty ewes and two rams.  She lets the ewes rear two or maybe three lambs, and bottle feeds the extras, keeping them in a pen she calls Bin Inn.  "Bulk lambs."
 
The hope is to get at least 120 lambs from 50 ewes, and while admitting it's lots of hands on work, "it's really no different to calf rearing."  In fact she even has a cow in the mixture, milking a wee jersey cow to feed the lambs once they've finished with the early lamb milk powder.
Moss has designed a special holder which is attached to the fence and lets six lambs feed from bottles at once, while some lambs are left on their mothers and just topped up with a bottle morning and night.
Relda's always wanted to be a farmer, but her second love is singing and composing music and one of her songs about a possum has been accepted onto the New Zealand Primary School's playlist.  That's worth a bit of money, but not alot. "As an artist it's just a thrill to create a song. But the fact that something I've done is good enough to be taught to kiwi kids is very special."
Relda spent some time considering working in Nashville, the home of country music, but says the system didn't suit her. "I can't write a song a Tuesday because that's when they wanted me to write a song."  
Rodeo riding, western rope spinning, circus work, skinning possums and shearing are also on her resume.       
(Above) Susan Murray interviews Laurie Greenhalgh. (Below) the view from barn back to Relda's house and Mt Pirongia in the background.