Murray Barker with goldfish ready for dispatch.
Even the man who breeds them can't believe how many goldfish New Zealanders buy.
Murray Barker owns Te Aroha's Braeside Aquaria, the largest goldfish farm in New Zealand.
His farm puts between 200-thousand and 400-thousand goldfish onto the market  each year.
"And that happens year after year after year and we wonder where they all go."
Murray says a there are 196 different types of goldfish in the world and he grows 27 varieties. Goldfish cannot be imported in to New Zealand.
They're couriered around the country in plastic bags half filled with water and with oxygen added. They are sent to pet shops, veterinary clinics, garden centres and to businesses that rent aquariums to dentists, lawyers and other professionals for their waiting rooms.
Murray says the number of Asian immigrants to New Zealand has also been good for his business. He says they bring with them a love of goldfish.
"It's caused us to raise our standards because most people from Asia have a very discerning eye when it comes to goldfish."
The goldfish are bred and raised in ponds containing 18 million litres of water on 6 hectares of land at the foot of Mount Te Aroha.
Nets are put over some of the tanks but that hasn't stopped a local hawk, starlings and blackbirds from trying their luck.  
And while the farm has a rural and mountain outlook it's bordered by 23 houses.
"I'd vow and declare that every neighbour has got 12 cats." Murray says  "On occasional nights that I come in having a look around and I'm shining the torch and here's all these cats eyes looking at me and I counted 26 cats one night ...so it's party time at the goldfish farm most nights by the looks of things."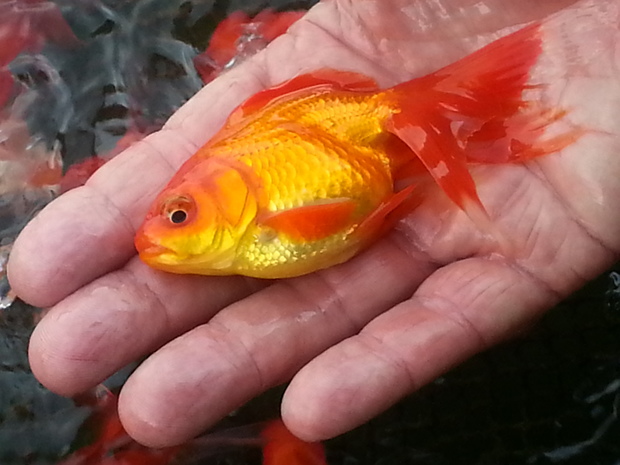 (Above) One of hundreds of thousands of goldfish bred at New Zealand's largest goldfish farm. (Below) The tanks at Te Aroha's Braeside Aquaria.