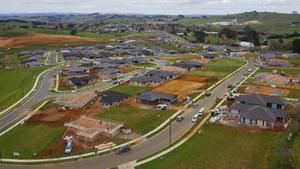 The developers of a large residential subdivision at Pokeno (below right) say the demand for sections is huge.
Dines Group purchased 200 hectares at Pokeno from local farmers for residential and industrial development.
Pokeno is located off State Highway One, 53 kilometres south of Auckland. There were fears the village would die when it was by-passed by the motorway 18 years ago.
Now, it's estimated Pokeno's population will be between 5000 and 6000 by 2046.
Dines Group project manager, Colin Botica says people are waiting for new stages of the development to be released.
"We can't construct the sections fast enough. As soon as we put them on the market, they're going instantly."
He says that's partly a reflection of the dynamic state of the wider Auckland property market and also demonstrates that Auckland buyers are prepared to move out of the city for more affordable homes.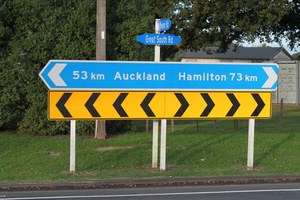 The Dines Group has enough land to create 1500 residential sections at Pokeno. To date, 460 have been purchased and another 70 are under contract. Hundreds of new homes are appearing on the newly contoured landscape.
Colin Botica says the average sized lot is 600 m2.
Lee and Amanda have recently moved to Pokeno.
They were living in Pukekohe, 17 kms away but couldn't afford to build there.
Their new, 215m2 house has four bedrooms, an office, an ensuite and two living areas on a 620 m2 section and cost them $540,000.
They love their new community.
"It's really nice. It's quiet here. There's a community feel as well. Everyone waves out and says 'hi'. Where we've come from we didn't have any of that," Amanda says. "We actually  know our neighbours."
Lee works as a roofer, mainly on the North Shore of Auckland and says it can take an hour and three quarters to get there.  
"I might start looking at work in Hamilton," he says, laughing.