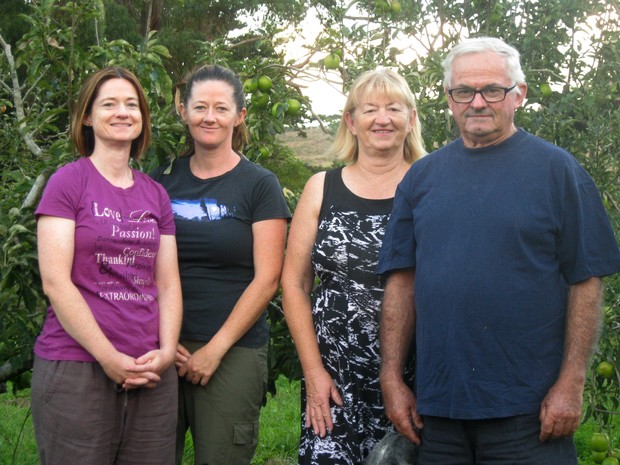 Tammy, Nicole, Marion and John Wooster in their Orira Orchard.
In the upper reaches of the Hokianga Harbour, at a place called Orira, John Wooster wears the Hokianga farmer's uniform, black singlet, black shorts and red band gumboots. 
He's proud of his attire and he's proud of his heritage. His great-grandfather arrived in the district in 1902, purchasing the block of land site unseen, from America. He'd read an advertisement in the Washington Evening Post and thought New Zealand sounded great.
World War One brought sadness to the family with the only son of fighting age, coming home injured after a German sniper hit him at Passchendaele. He died from those injuries in 1919, instant death probably being avoided by the bullet hitting a bible, card and photo of his baby brother which he had in his top pocket.
These days fourth generation John Wooster has a very mixed orchard on the land. "If it has fruit on it, I grow it. I have twenty of this tree, ten of that tree."
He and his wife Marion, and their two daughters, Nicole and Tammy,  sell the fruit and preserves at the Kerikeri Farmers' Market. Both daughters are getting into manuka honey and they hope to be back full time on the orchard one day. Quite a change from a decade ago, when they considered pulling the orchard out.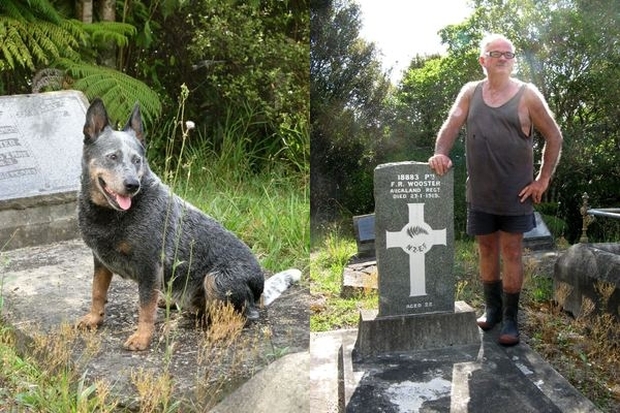 Left: One of John's Blue Heeler dogs. Right: John Wooster beside Frank Wooster's grave, who died in 1919 from wounds received at Passchendaele.