White Sebastopol Goose CC BY 2.0 Owlmonkey. Feijoas CC BY 3.0 ksuyin.
Tony Firmin arrived in New Zealand nearly 60 years ago on a ship carrying steel girders for the Auckland harbour bridge. Within a day he had a job working on the wharf, but quickly went on to learn dairy farming before buying a property near Whakatane in the early 1970's. The flat coastal land was ideal for growing feijoas, stone fruit and berries.
A severe hail storm some years later damaged a blueberry crop and changed Tony's focus from being a fresh fruit supplier. The damaged fruit became wine. Today his award winning feijoa wine remains the most popular, but the berry wines have also collected a few gongs along the way.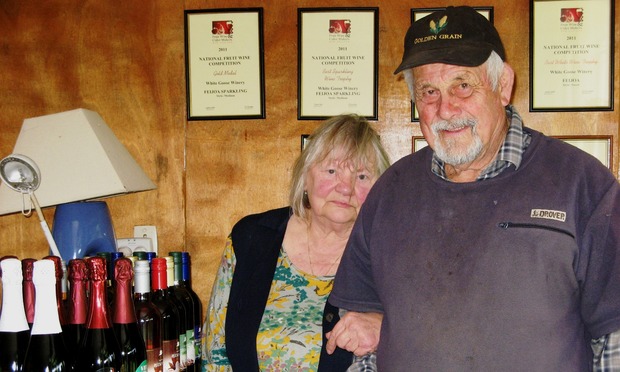 Jutta and Tony Firmin.
Tony is nearly 83 and still prunes all 1900 feijoa trees himself. Keeping the grass at bay are 70 Sebastopol geese which also do a good job fertilising the soil.