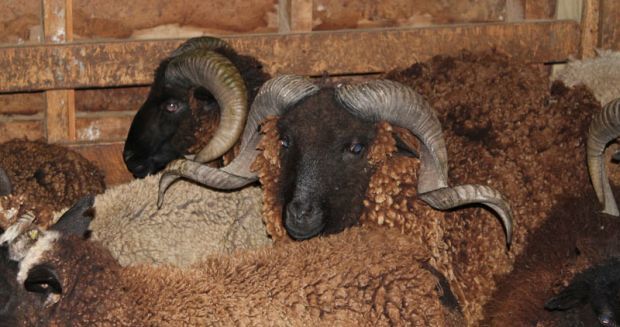 "They like to jump …and a seven wire fence means nothing to them. They can go straight over the top of it just like a deer. They would go good in track and field events."
Alongside his Romneys, Brian Hales farms half a dozen smaller flocks of exotic sheep on his Wimbledon farm in Southern Hawkes Bay, including breeds from as far away as Uzbekistan, Egypt, Wales and Spain.
Brain Hales' working dogs loathe the Gotland sheep, which have their origins in Scandinavia and is a wiry, fine-boned and athletic breed.
Brian doesn't like using hunterways to muster his precious exotic breeds but had to resort to bringing in the noisy 'big guns' to yard the Gotlands for a recent sheep expo held on his farm, where he was showcasing Damara, Pitt Island, Arapawa Island, Dorper and Karakul sheep. He was also giving visitors to his farm a taste of each of the breeds cooked to recipes of the sheep's homeland.
He says it'd be awesome if Dannevirke, a town with Scandinavian roots, would adopt the Gotland as its sheep.
"If we were to have a function, instead of just having an ordinary old piece of meat we would have a piece of Gotland and cook it in the traditional Scandinavian way."
Brian says Gotland wool is the best he can produce on his farm. Fibre artists love the wool – which comes off the sheep in lustrous ringlets – keeping the shiny locks intact and using them for edging and fringing.
Gallery: Brian's sheep