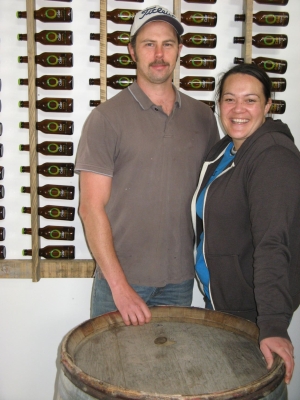 Kiwi-born Rowena, or Ro, and Australian Simon met working on a winery in Western Australia, but their end of the day wind down tipple was cider.
After several years of dreaming, the pair decided to leave Perth and wine making and return to her family land in Te Puna, Bay of Plenty to set up O Cider. 
The sloping, organically certified property, looks out over Tauranga Harbour towards Mount Maunganui, and it's here the Pearce's have planted over 300 heritage apple trees.
For now they're happy making cider using table apples from Waikato, but they say the taste and look of the drink is quite different when old apple varieties are used.
It's still a developing industry in New Zealand and Rowena says it's a bit like wine was thirty years ago.  She says it's exciting to be in at the pioneer stage and "if we're around in thirty or forty years I'd be proud to see the people who started up and defined what essentially will be the future.  We're all learning and we're all growing, hopefully together".